From inventory management to customer communications, running a DTC business comes with a plethora of simultaneous responsibilities. These days, savvy marketers are tapping into the power of ecommerce automation to save time, work more efficiently, and tend to their ever-growing to-do lists without lifting a finger. In fact, marketers report saving 25 hours per week on optimizing the customer journey by using automation for tasks like automating emails, personalizing communications, and managing email subscribers.
At a time when so many brands are trimming their budgets, the value of investing in automation can't be underestimated. For example, if you have 10 marketers on your team saving 25 hours a week, that's 250 total hours in savings every week. In this scenario, using automation to free up 250 hours of time per week would help your business save hundreds of thousands of dollars in manual labor costs per year.
Want to gain that level of game-changing efficiency for your own team? Check out these expert tips from eCommerce expert and Co-founder of Made Digital Ademola Adelakun, MBET. 
1. Use Quizzes to Tag Customers Based on Preferences
When you meet someone new, you're sure to make a great impression when you ask them questions about themselves, and the same goes for your customers. Adding a quiz to your ecommerce website immediately lets a customer know that you want to know more about them. And this isn't just a feel-good exercise. You can lean on automation to make that quiz work for you in magical ways.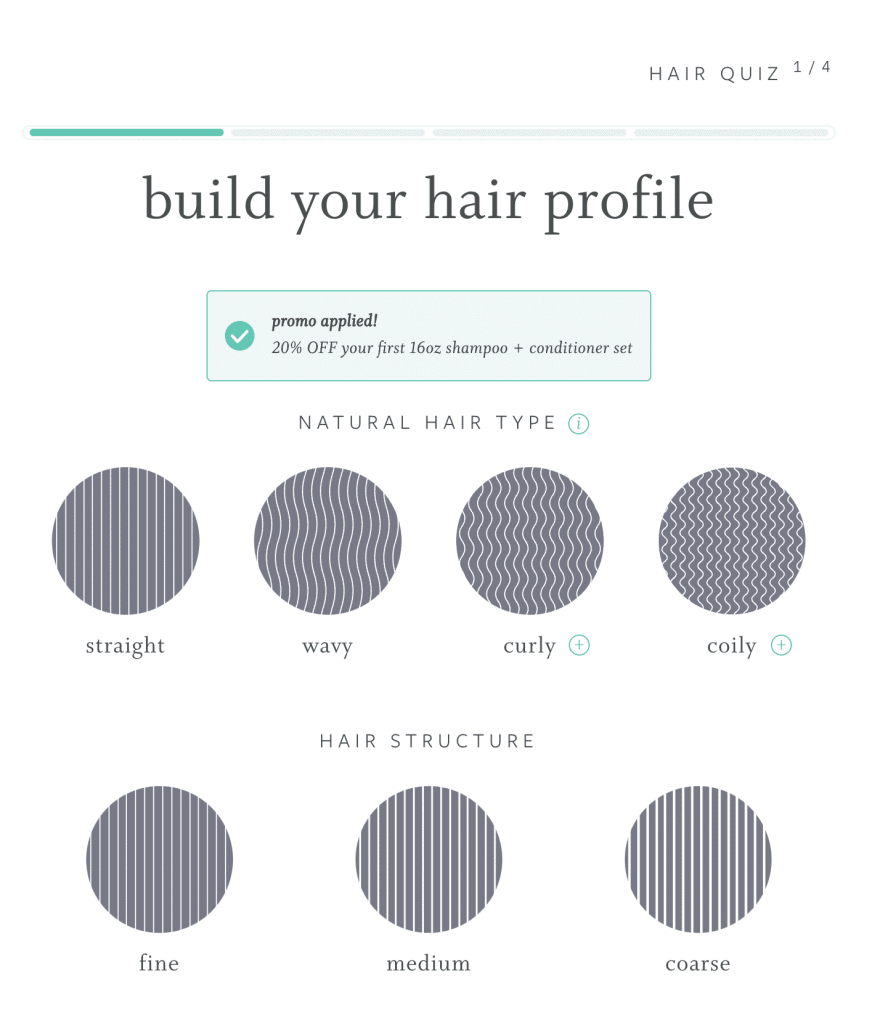 For instance, let's say you're in the DTC skincare business, and you launch a quiz asking customers about their skin type, challenges and goals, and fragrance preferences. You can set up the quiz to automatically tag customers based on their responses. Once that tag is added to their customer profile in your marketing automation system, you can segment that customer and let automation take care of the rest. Automation can determine that a customer would be interested in Product Lines A and C and not a good candidate for Product Line B.  
That way, instead of flooding their inbox with everything you've got, you can tailor an email sequence that sends that customer exactly what they're looking for without fluff or irrelevant recommendations that cause them to lose interest or even trust in your brand. After all, brands that use automation to fuel hyper-segmentation build better bonds with customers because they can't help but feel like those brands truly "get" them. 
2. Lure Lapsed Customers Back with Automated Win-Back Emails
Winning customers back is easier than you think with the help of automated emails. Tag repeat customers who haven't purchased within the past six months and send them an email campaign that includes:
A subject line like

We miss you! Find your special gift inside

A message letting them know how much you appreciate their business

A promo code for a discount or free shipping on their next purchase 

A curation of suggested items based on their previous purchases
Data shows that 45 percent of customers who open a win-back email will open the next email you send them, which means you'll benefit from automating this type of email, whether they purchase after reading it or not. 
3. Effortlessly Celebrate New VIPs
Whether you have a loyalty program or defined a yearly spending threshold as VIP status, make a customer's crossover into VIP territory a memorable moment. When you lean on automation to do the work for you, there's no need to run a weekly or daily report. 
Your automation system can spot the second a customer hits the VIP spending level and instantly send a note to your warehouse to add a card, free gift, or special discount slip to their order.
4. Seamlessly Patch Over Less-Than-Stellar Customer Experiences
Returns, customer service calls, and emails are often signs that something didn't go quite right with your customer's purchase. To make up for a disappointing experience, whether it be incorrect sizing or a shipping snafu, you can automatically tag customers who've made a return or wrote into customer service and trigger a variety of actions, like:
Email them a discount code that they can use on their next order

Email a free shipping code so they can order a new size without spending extra

Apply a discount to their cart that's ready for them the next time they buy
These moves can benefit your business in the same way they do your customer by turning a return into a new sale and an operational error into an opportunity to show them how much your company cares. And best of all, they won't burden your customer service team thanks to automation that handles these friendly gestures for you. 
5. Remind Customers What They've Been Eyeing with Dynamic Content
Eighty percent of customers are more likely to buy from brands that offer personalized experiences. While that may feel like a heavy lift when it comes to your miles-long email list, automation can do this for you. Dynamic content allows you to bolster your seasonal campaign emails with personalized curations based on what you know your customer already likes. You can leverage dynamic content to give your big email campaigns the kind of personalization that lets customers know that you know what they're into, regardless of the latest trends you're promoting.
Let's say you're sending an email introducing new fall styles to your entire customer base. Rather than hoping those styles will appeal to them, you can place a row of dynamic content beneath the SHOP NOW button. This dynamic content can automatically populate with items individual customers have browsed before or brands they've purchased from in the past. Now they're more likely to buy, whether or not they're loving your latest promotion. Check out this example of personalized P.S. dynamic content from DTC maternity destination Motherhood:
6. Reach Reluctant Email Readers Where They'll Definitely Get the Message
Crowded inboxes can cause would-be loyal customers to miss your email messages. If you don't want to inundate customers with communications, consider using automation to strategically launch an SMS campaign for customers who don't open your emails.
When it comes to frequency, choose wisely. Remember, you want to avoid opt-outs, so reserve follow-up SMS reach-outs for your biggest sales. For example, suppose you're offering an extra 25% off clearance. In that case, you can set up your marketing automation system to automatically send an SMS message to all customers who didn't open the promo email within 24 hours or two days. The message should let them know that the sale is on and provide a link that takes them directly to the sale on your website. As for send time, 90 percent of phone users check their phones within 30 minutes of waking up, so consider letting them in on that sale with a morning SMS text.

7. Send Strategically Tweaked Follow-Up Emails to Boost Conversions
Many marketers make the mistake of sending automated out-of-the-box emails on a one-off basis. While this can be effective in engaging some customers, you're missing out on those who didn't read your email. Fortunately, automation can do more for you here.
Rather than sending a single email and accepting whatever engagement rate it receives, create an automated email sequence designed to improve your open rate as the sequence goes on.
Take abandoned carts, for example. You could send a single email reminding them to complete their transaction. But why stop there? Instead, create a completely automated email sequence that includes: 
A first email 24 hours after they abandon their cart that asks, "Forgot something?"

A second email to let them know they can use buy now, pay later for the items in their cart (If they don't respond to the first email)

A third email offering a limited-time discount promo code for those items (If they don't respond to the second email)
8. Ramp Up Product Reviews on Your Website
If your website lacks customer reviews, you're likely missing out on sales because an incredible 95 percent of customers read reviews before making a purchase. Rather than tasking your customer service team with individually reaching out for customer reviews, automate an email series just like you would for customers who abandon their carts. 
One to two weeks after a purchase, send an email asking the customer to leave a review in exchange for 10% off their next purchase. You can consider adding a second option asking them to leave a photo or video review for an even larger discount like sporty DTC streetwear brand LSKD: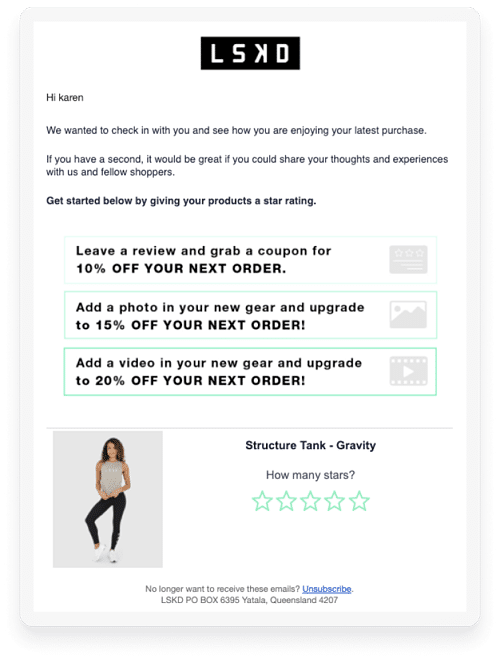 If they don't engage with the first email, contact them again with a sweeter deal. Have your system tag non-engagers and schedule one to send a month later that offers a 20% discount if they leave a review.
A Bonus Ecommerce Automation Tip Your Buyers Will Love
If you use an enterprise resources planning (ERP) tool to aggregate sales data, forecasts, and inventory, you're always in-the-know about what you need to order. But unfortunately, the vendors you rely on outside of your company don't have access to your ERP dashboard.
That said, you can use automation to keep vendors in the know by creating scheduled purchase orders that automatically send inventory information to vendors. This can help in times when spending is tight for your customers, and you need less inventory than before, as well as during those busy holiday months when you'll want to keep vendors in the loop so you're stocked and ready when Black Friday arrives.