Abandoned carts are the cause of billions in lost revenue each year. But with the shift to all things digital, how can brands succeed at regaining the attention of hyper-distracted, overstimulated customers with so many competing options just a click or scroll away?
Understanding the causes of abandoned carts is only the first step. Read on to discover actionable tips to help you reengage and convert prospective customers who are just on the brink of buying.
Abandoned Carts by the Numbers
10 Ideas for Turning Abandoned Carts Into New Sales
Some customers simply need a reminder to complete their purchase, while others are looking for a little≈ more. From digital reminders to can't-deny discounts, these ideas are a sure-fire way to catch the attention of customers gone astray.
Offer a Discount to Complete Their Purchase
Sweeten the deal by giving customers a discount on items they've left in their cart. To create urgency, timebox the offer to just a few hours.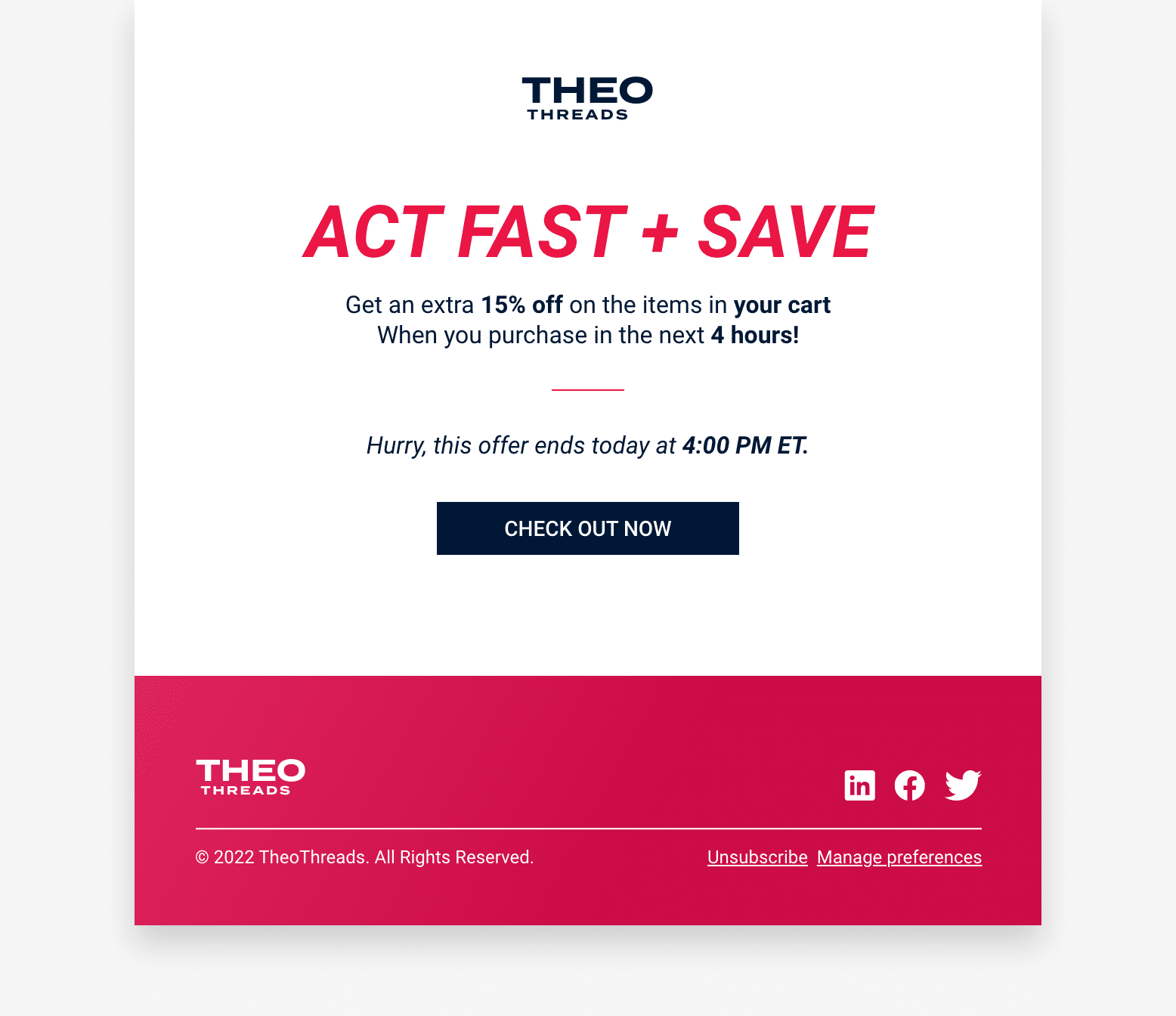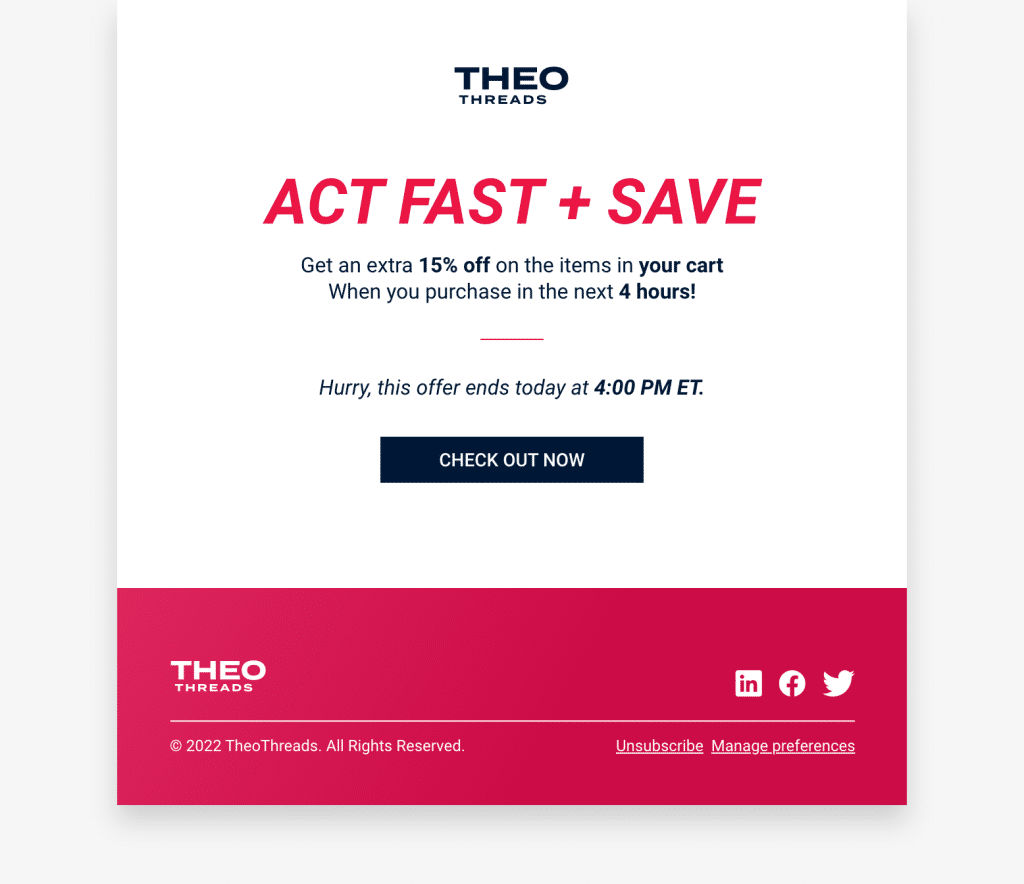 Let Customers Know They Have Loyalty Rewards to Spend
Nudge loyalty program members by letting them know how their valued status entitles them to exclusive benefits for theçir cart. If applicable, send them an email with a subject line that instantly alerts them to potential perks, like:
Hey There! You Have $10 in Loyalty Cash to Put Towards Your Cart 💰
Redeem Your 200 Loyalty Points to Save $20 on the Items in Your Cart
Incorporate Cart Reminders With Seasonal Promo Emails
Highlight products in customers' carts within your promotional emails. In addition to letting customers know about limited-time savings, spotlight items they considered purchasing before. That way, they'll be more likely to take you up on your offer.
If you're not inclined to promote a limited-quantity item or provide a discount, consider leveraging a content offer. This provides you the opportunity to grow your email list and cultivate relationships with visitors beyond this initial engagement.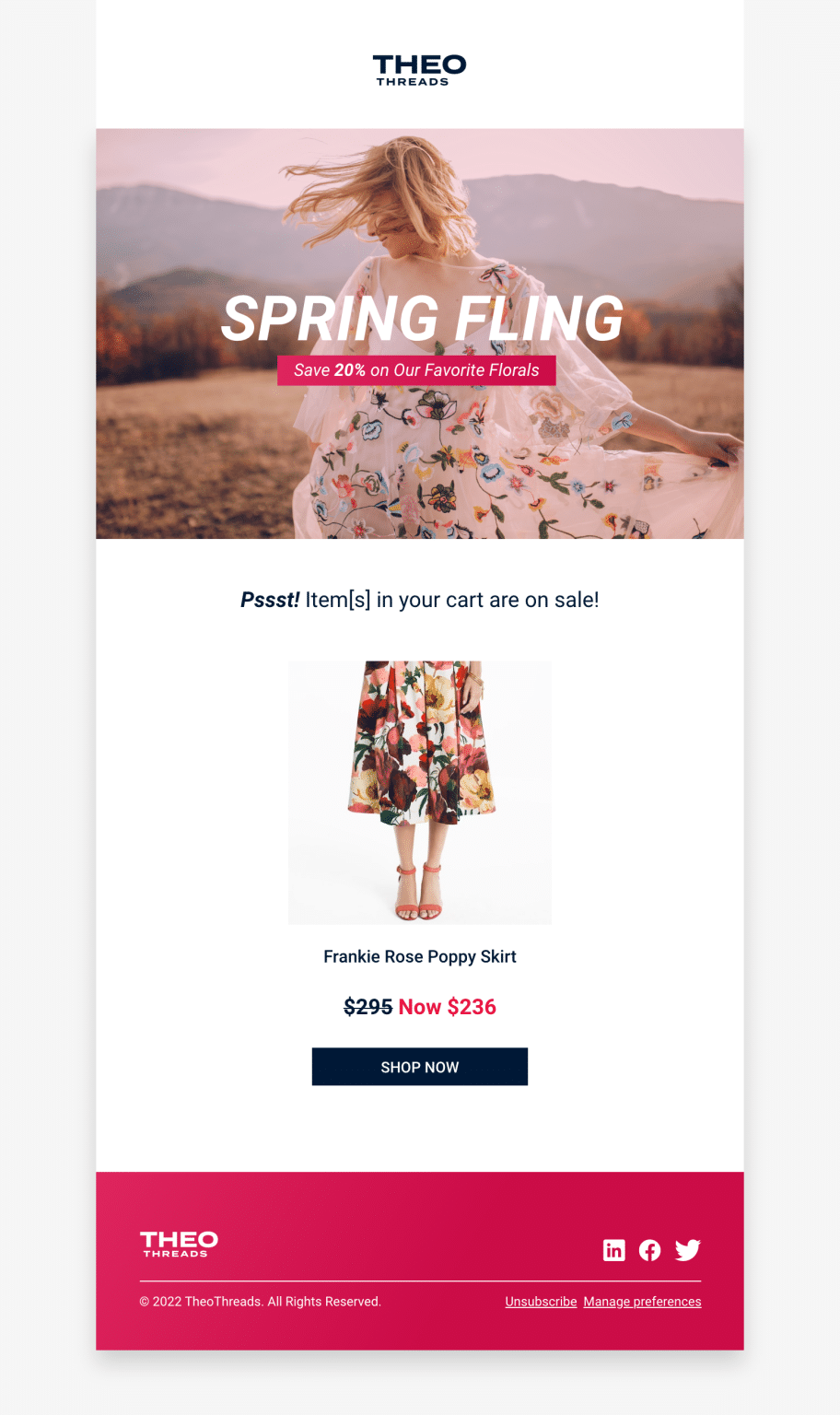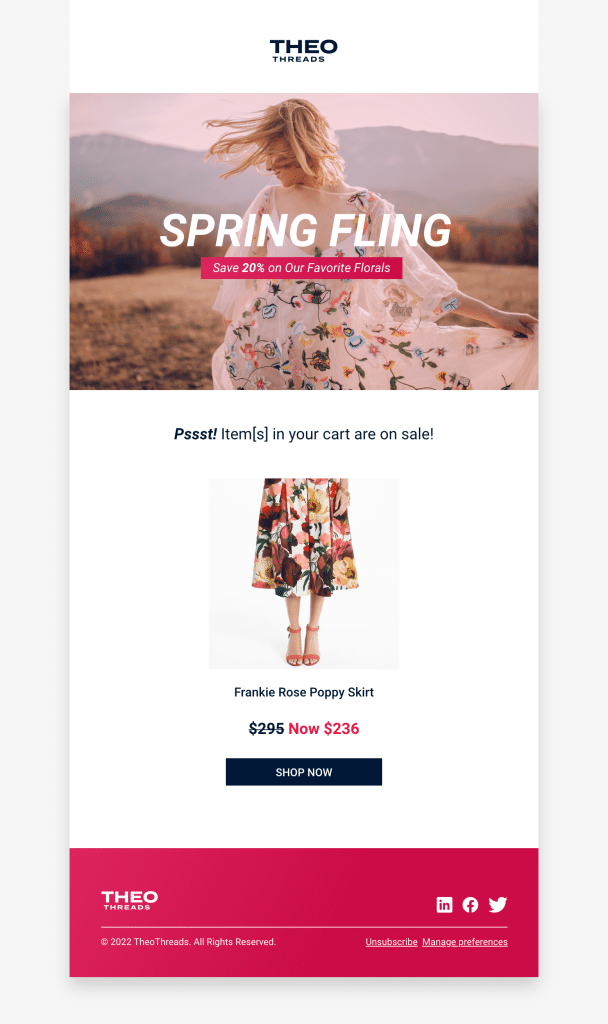 Extra costs are the number one reason customers pass on making a purchase. Instead of allowing a small shipping fee to get in the way of a substantial sale, let customers know that they can purchase the items in their cart using a free shipping promo code. 
To keep costs in line for your business, activate the code at a specific purchase amount that aligns with the total sale price of the items in their cart. For example, if a customer has $87 worth of merchandise in their cart, you could offer a FREESHIP promo code for purchases over $75.
Tell Them What'll Pair Perfectly With Items in Their Cart
Help your customer understand the possibilities that come with the items in their cart.  Send an email that juxtaposes one of the items in their cart with a series of new items that complement it. Not only could this land a conversion, but it could also increase the sale quite a bit.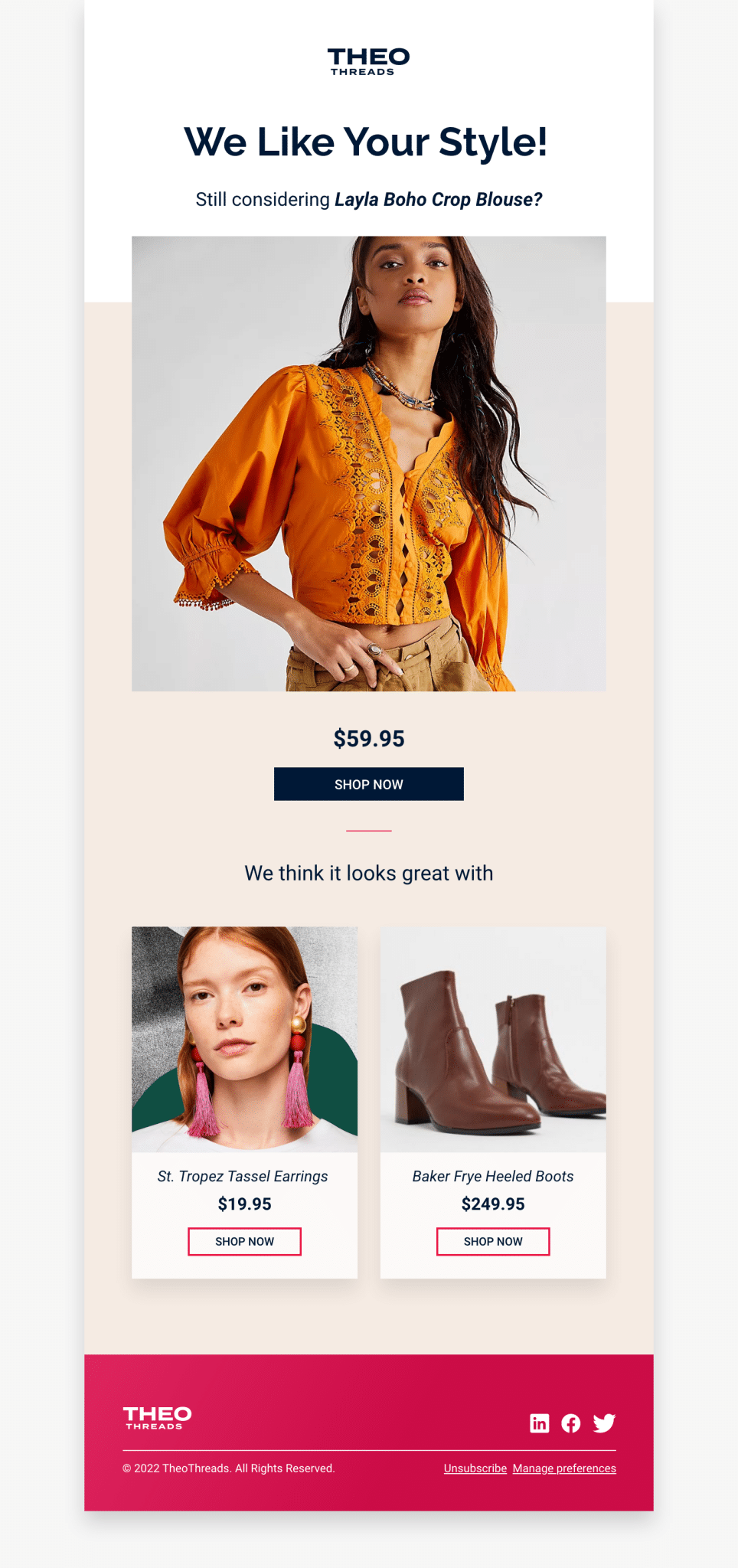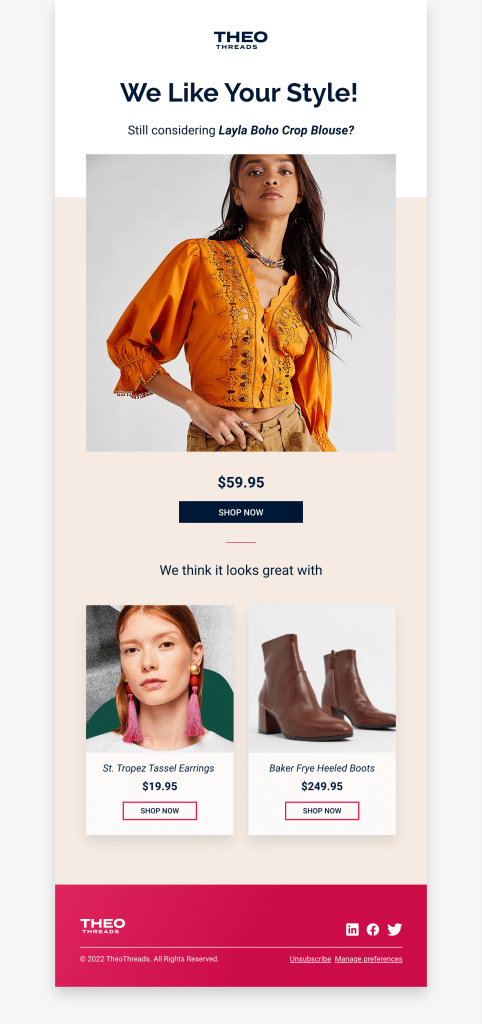 Show Them "Everybody's Doing It" Via Social Proof
There's a reason why creators are in-demand assets for brands. These social-media masters specialize in bringing customers closer to the brands they follow through authentic content that's a perfect mix of relatable, entertaining, and aspirational. Best of all, they've set the stage for your customers to post about their purchases, too. 
A quick hashtag search can show you how customers are wearing and sharing about your brand on social media. If you notice a particular product is getting attention, pinpoint the carts it's sitting in and send out an email that touts its popularity by including the social images for would-be buyers to see. 
Sometimes we need a minute to think before we purchase, but before we know it, a week goes by, and that caribou-feathered dog sweater is completely sold out. When a customer ditches their cart, you don't have to let them go. Launch a remarketing campaign that follows them in their social media feeds and on the websites they visit so they won't forget – no matter how many distractions try and get in their way.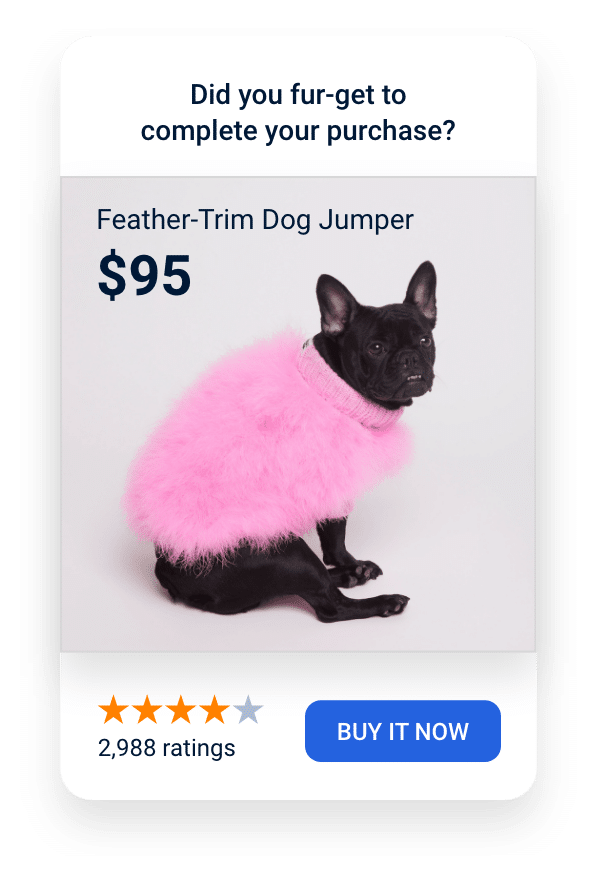 Send a Cheeky Email Reminder
Give customers a reminder with a wink. Send an email that includes:
An attention-grabbing headline like Forgetting something?  
A list of the items in their cart 
An urgent CTA: Stock is low. Act now or you'll miss out!
Use the Power of Video to Show a Carted Item in Action
Show customers just how much the product in their abandoned cart can enhance their daily lives via video. Seeing the benefits of a product in practice makes it easier for us to understand its effects and how it can solve our problems and help us achieve personal goals. (See example below).
 Give Customers a Heads Up on Price Drops
Be the in-the-know friend that lets customers know the moment an item in their cart goes on sale. Not only will customers appreciate the heads up, but the newly-discounted price may just be the move that seals the deal. Keep your subject line direct and primed for dynamic content. For example: 
Subject Line: 🚨Price Drop Alert: [ITEM NAME] in your cart is on sale
Preview Text: Don't miss this great deal! Buy it now while it's still in stock.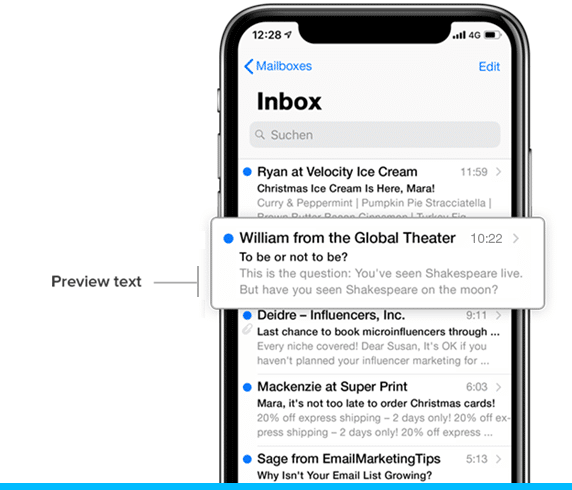 Future-Proof Your Website Against Cart Abandonment With an Optimized Checkout Flow
While luring customers back to their abandoned carts is more than possible when you implement the ideas above, avoiding cart abandonment altogether is a much more efficient goal. This starts with your checkout experience. Ask yourself:
Do you allow customers to check out without creating an account?
Do your discount codes have a 100% success rate?
Does your checkout process let customers mark their shipping address as their billing address, so they don't have to enter the same information twice?
Does your checkout flow contain less than 12 form elements?
If you answered no to any of the questions above, your checkout flow has room to improve. Start the process of streamlining and enhancing your checkout experience by booking a free call with Theorem's strategy team. 
Theorem's end-to-end digital marketing solutions can assist you with:
Website strategy, including checkout flow
Abandoned cart email communications 
Personalized retargeting ads 
Complete the short form here to book your free consultation and discover why so many of the biggest brands in e-commerce trust Theorem to help them grow their customer base through fully-optimized and future-proof digital experiences.