As D2C brands enjoy hyper-growth mode thanks to consumers' increasingly digital habits, savvy marketers are looking to influencers and affiliate marketers to expand their reach. The key to running a successful campaign, regardless of which method you choose, is simple: design it around your goals and customers, and the results you desire will follow.
What's the Difference Between Influencers & Affiliate Marketers?
While influencer marketing and affiliate marketing both rely on tapping into large third-party followings on digital media, there's a big difference. The main difference is that influencers are people, while affiliate marketers are media companies.
Influencer marketing: Social media personalities, or influencers, endorse your brands and products to their following. 
Affiliate marketing: Popular blogs and media websites advertise special offers, discounts, and sales for your D2C brand's products to their audience through ads or featured content.
The Incredible Impact of Influencers & Affiliate Marketers
Influencer marketing: Social media personalities, or influencers, endorse your brands and products to their following. 
Affiliate marketing: Popular blogs and media websites advertise special offers, discounts, and sales for your D2C brand's products to their audience through ads or featured content.
93% of marketers have used influencer marketing in their campaigns

Most mentioned brand on Instagram in 2021: Zara 

Most mentioned brand on TikTok in 2021: FashionNova 

By 2022, the affiliate marketing industry is expected to be worth of $12 billion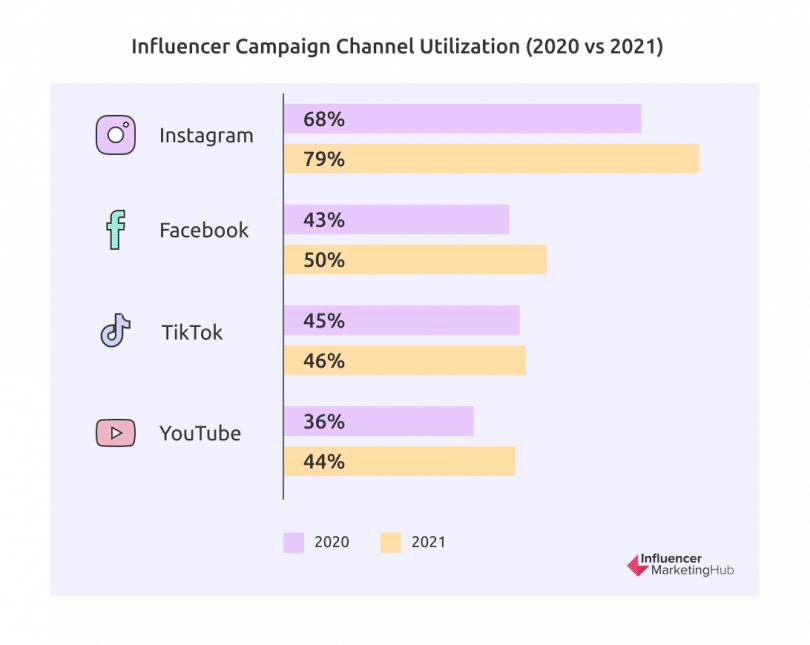 8 out of 10 brands run an affiliate marketing program

Affiliate marketing drives 16% of eCommerce sales in Canada and the US

The fashion and wellness industries are the top affiliate marketing niches
How to Leverage the Power of Influencers & Affiliate Marketers
Choosing which route to take and which influencer or media platform to partner with can feel like a tough call, but fortunately, your goals, customer base, and eventual metrics can help make these decisions easier. 
Choose Your Approach Based On Your Goals
What are you looking to achieve by working with an influencer or affiliate marketer? By setting your goals, you can look at the benefits of each to determine which is a better fit for your brand.
Benefits of influencer marketing:
Drive awareness for your brand on social media

Create brand affinity by framing products as beloved influencer recommendations

Convert social media followers into new customers
For example, let's say you're looking to grow your following on social media or generate buzz around a new product launch. Your brand would likely be best served by hiring an influencer who's popular among your customer base.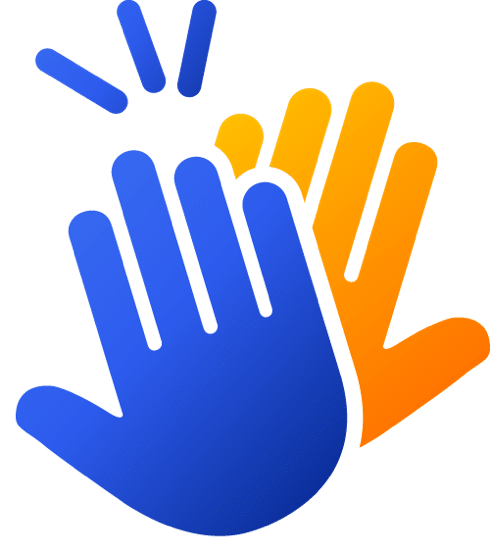 Benefits of influencer marketing:
Boost sales for a product line through branded content
Increase the number of new visitors to your website
Grow the reach of a new promotion
If you'd like to tout a special promotion, partner with an affiliate marketing website that can tell your product story through content and drive readers to your offer. You can also opt to place banner ads on articles related to your products. For example, if you're a D2C beauty brand with an upcoming promo for lip balm, you may decide to place your ad in a prominent spot on a buzzy beauty blog.
Consider Your Customers' Digital Habits
If a D2C brand's influencer or affiliate efforts didn't quite hit the mark, it doesn't necessarily mean that marketing strategy is a bad fit. It may just mean that their marketing team needs to gain a better idea of where their customers live and what they follow.
Sure, influencers and affiliate marketers can give you a breakdown of their following, but does it match yours? Before you sign on to one of these partnerships, consider your customers:
Where do they spend their time online? 
What are their interests? 
How do they engage with your brand and others on social media? 
You might also want to ask your customer success team to locate some of the social media profiles of frequent buyers and get a feel for the influencers or blogs and media sites they follow. (Many blogs also have an Instagram presence to keep readers up-to-date on their latest posts.) If your top customers have favorite influencers or blogs in common, consider that your go-to list for partnerships.
Gain Inspiration from These Scroll-Stopping Examples
Designed for the modern minimalist, OAK + FORT looked to fashion and travel blogger Kate Ogata to tout their breezy, oversize trench to her 138,000 followers.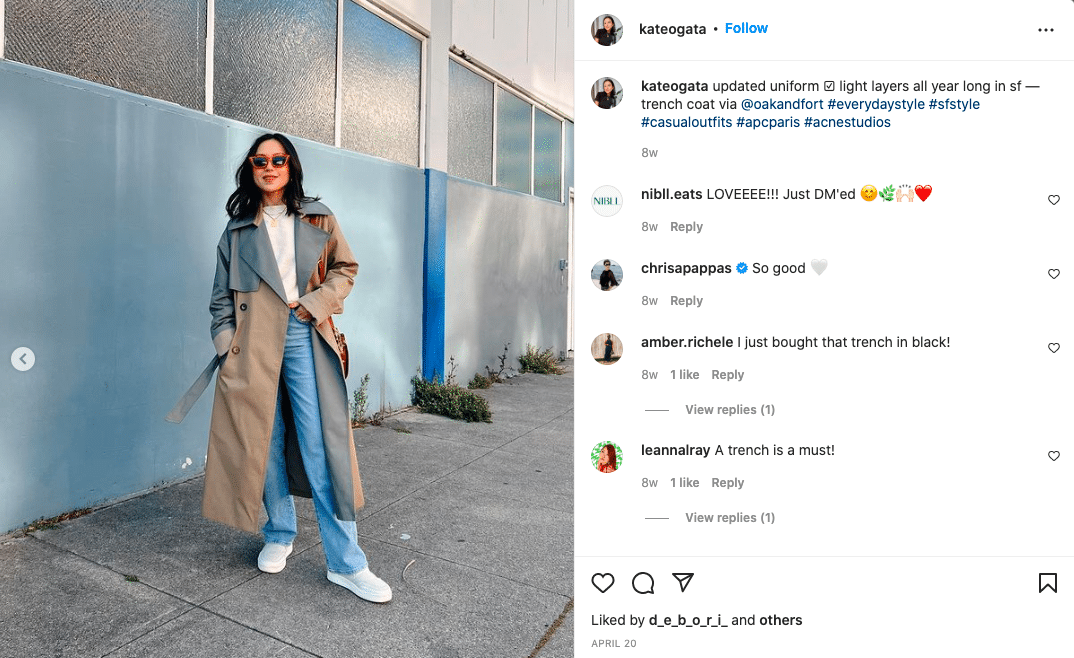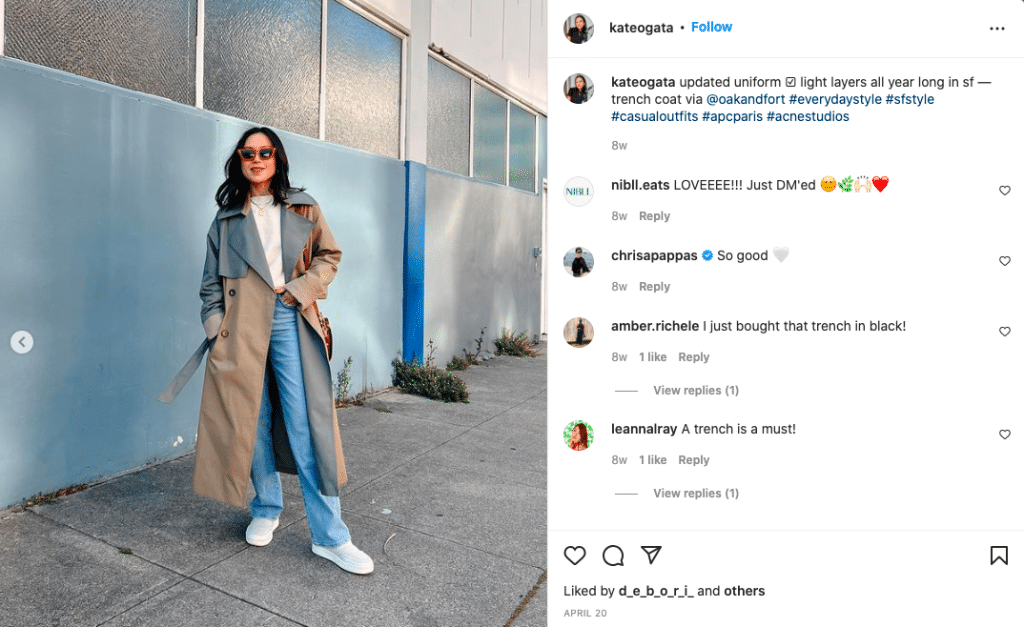 Spotlighting Sephora as the destination for clean foundation, influencer
@jessannkirby
demoed the easy application of Ilia Beauty's Super Serum Skin Tint Foundation in an Instagram video.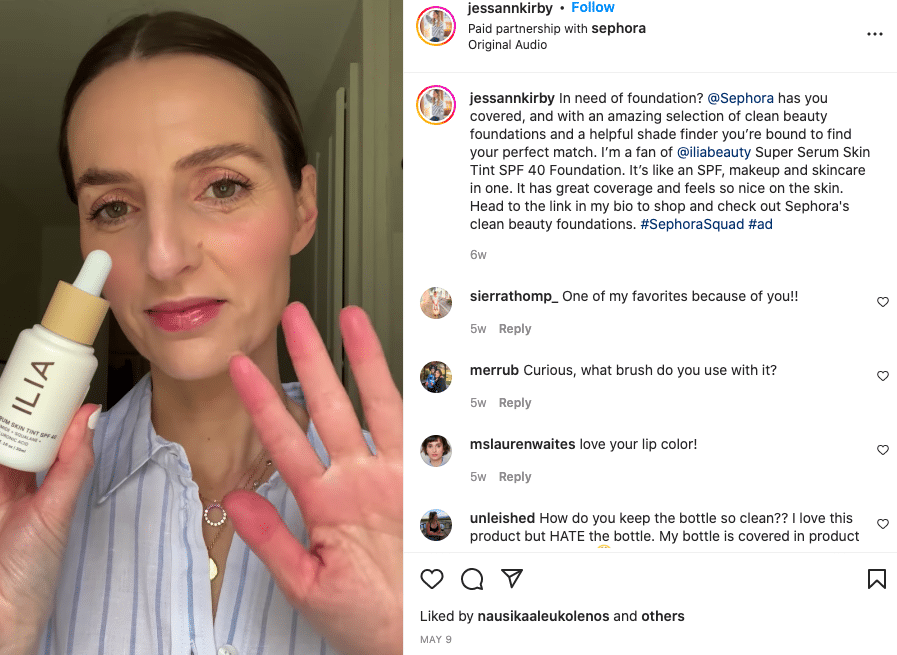 NYT's all-things affiliate marketing website
Wirecutter
features a popular Deals section that spotlights can't-miss savings plucked from their must-read roundups of the hottest products available in a variety of categories. Note that in addition to the deals callout, the feature also links to the listicle it's featured in,
33 of the Best Housewarming Gifts.

A beloved beauty magazine turned digital authority for all things beauty and skin,
Allure.com
packs plenty of roundups that feature product reviews and direct-buy links for their millions of visitors.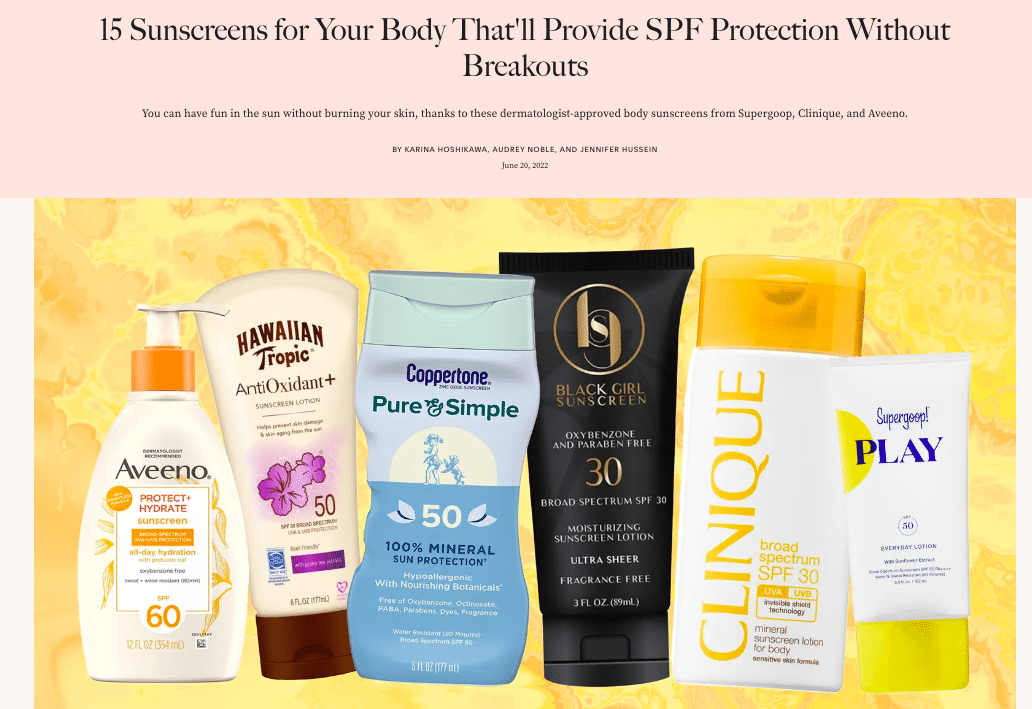 Scope Your Success Metrics
No matter which avenue you choose, the moment of truth comes when you determine whether or not your placement worked. Marketers typically use unique links or promo codes that allow them to seamlessly connect sales, website traffic, and other engagement metrics to the appropriate influencer or affiliate website.
When running an influencer campaign, keep an eye out for:
An increase in social media followers

A boost in comments, likes, and shares on your social media posts

A spike in website visits

An increase in orders of a specific product that was featured
With a successful affiliate marketing campaign, you'll see:
A boost in order value thanks to your featured promotion
Increased website traffic from new visitors
More sales driven by an increase in reach for your promotion
Once this data is available, meet with your team members to review your campaign's performance. As mentioned before, if your initial numbers disappoint, it doesn't mean these strategies aren't worth trying again. Work with your team to determine opportunities for improvement, whether that be moving to a different affiliate website, tweaking the terms of your promotion, or seeking out an influencer whose following is more reflective of your customer base.