Business across the globe continues to see the effects of the unprecedented circumstances of the COVID-19 Pandemic taking shape. Now past the 6 month mark from the onset, many industries are beginning to regain some level of stability. As such many are evaluating and adjusting to the cumulative effects of the pandemic on their business.  The digital marketing services industry is no exception.
Actually this shift is more prevalent than ever in the digital marketing services industry. Like many in our industry, the Theorem team is constantly analyzing and adjusting to the effect these circumstances are having on digital marketing services as a whole. So that we may better assist our clients in shifting gears to stabilize their businesses.
As a leader in the digital marketing services industry, Theorem has a high-level view of the effects the pandemic is having across a variety of industries.
Throughout the past 6+ months, our c-suite, sales and marketing teams have constantly been evaluating the changes. We believe it is important for us to continue to share our findings and discuss what we project will be long term effects. 
With mandatory shut downs, work from home practices and social distancing practices still in effect, business continuity plans are still evolving. Now more adjusted to this new normal, we are able to see and understand the initial reverberations this global change has had on our clients and their digital marketing services needs.
Our wide breath of clientele allows us to assess the shifts in digital marketing services across the spectrum of industries.  To date we have discussed the initial repercussions on email marketing, automation implementation, the need for more direct to consumer marketing and the evolution of D2C brands through the pandemic.
As we continue to evaluate different elements of digital marketing, we will report on more topics. 
Some of which include understanding how data and analytics can help navigate these rapid changes and what is happening in the digital advertising space. 
The first and most important thing to note, is that martech platforms and software are holding their ground.  We haven't seen a drastic downturn here. Mainly because these platforms are essential for brands to manage their owned and operated media and marketing efforts.  
While the design and architecture of these platforms and systems was initially paused to allow for volume calibration due to shut downs, the necessity remains.
MarTech platforms and software systems are the most private and secure forms of digital communication brands have. Due to social distancing and lock downs across the globe, brands are looking to digital platforms to openly communicated with their clients. Achieving this means they need to implement digital marketing automation. In other words, business survival has become dependent on the ability to implement automation.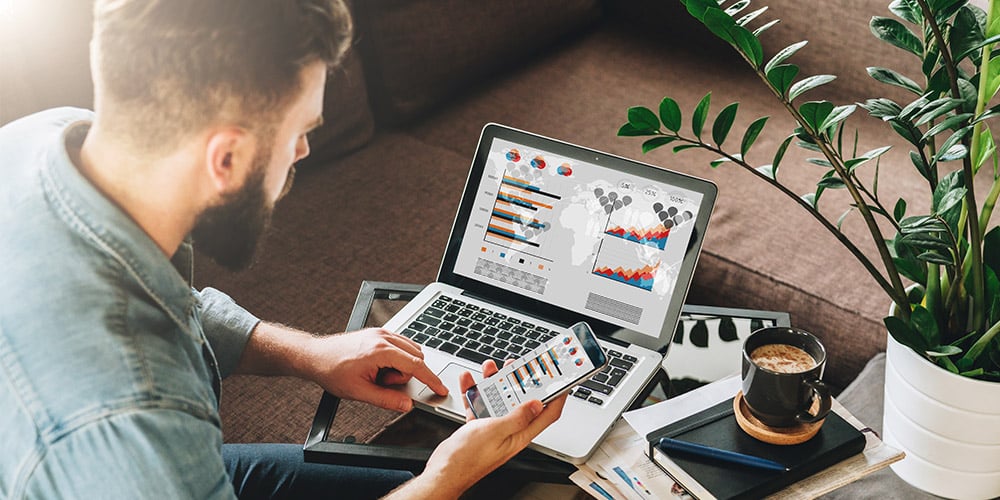 We are beginning to see the lasting effects on email marketing efforts in the wake of this global shift. Many clients who were already engaging in steady stream of email marketing are now ramping up those efforts.  Namely those in retail, who are trying to maintain relevance and thrive through physical location closures. 
As a result, we predict an overall increased volume in digital marketing services related to email marketing efforts.
Meaning we will continue to see increased requests for email marketing build out and implementation. In addition, many clients will be implementing or adjusting martech stacks and automation practices. Future projections indicate  that the market will shift towards an increased number of digital marketing consultancy services, creative and framework layout design and platform partnership requests.
On the other end of the spectrum, we have paid media. Many digital marketing services partners can attest to the significant impacts on digital media across many industries.  The majority of brands have made cuts in their advertising and paid media budgets to realign business costs, while a select few who are thriving in the wake of the pandemic are increasing media spend.
Overall, the decline we are seeing is primarily in high-touch campaigns (those that require human interactions).
Due to the fact that it is automated through systems, programmatic should see a steady increase while standard manual ad serving will see a rapid decline in the coming months. 
Companies who are adjusting to this shift, whether on their own or through a digital marketing services provider, will be able to withstand the ever changing marketing landscape much better than those who do not. 
As important as data and reporting has been to digital marketing through the years, it has never been more crucial to utilize than it is right now.  Teams engaged in robust data collection and reporting are in a much better place to analyze and shift to meet the rapid evolution of the market.
Providing digital marketing services to a wide variety of clients, gave us a clear picture of how data is influencing our clients decisions and adjustments to their marketing throughout each stage of this crisis.  Each utilizing the consumer data to determine where and when clients were interacting with their various forms of marketing. 
The majority of  brands have been engaging in some form of data collection and reporting for some time now.  Those that were not well seasoned in the practice found themselves in a tough situation in the aftermath of shutdowns and immediate shift to virtual interactions exclusively. 
The bottom line: there is no good way to analyze and evolve for changes without a data collection and reporting system in place.
What Does This Mean for Tomorrow?
From a high level view, this means that business as usual is rapidly changing for the digital marketing services industry.  But not necessarily in a bad way.  In all reality, the shifts that are happening were already underway. 
As we forge ahead, there will be significant changes to the standard ad serving methods and shifting of budgets towards automated methods. 
What the industry must plan for is a rapid acceleration of the decline of legacy methodologies and develop plans for ramping up automation strategies. Those who begin to prepare for the implications these changes all have on their business will successfully navigate the shift. 
What does this tell us? Essentially the crisis has accelerating the inevitable rise of automation over manual ad serving we all knew was on the horizon. Which directly relates to the commoditization of programmatic as it is holding steady in the market.