As we transitioned to a new decade, the world of marketing was already seeing the shifts happening in the email marketing game. Trends were showing that client centric design and engaging email content would take over the 2020's. Little did we know what kind of uncharted territory would lie ahead. 
Industries of all types began to feel the effects of the pandemic as it spread across the globe. Leaving many marketing teams scrambling to figure out how to carry on during such an unprecedented event.
Immediate shifts in planning and strategy occurred for teams of all shapes and sizes. Each industry taking a different approach in regard to marketing messaging, frequency, delivery and tactics.  This was especially prevalent in email marketing. 
Now, 2 months out from the initial impacts of the pandemic, we are able to clearly see the state of email marketing.  Theorem's role as a digital marketing services provider, means we work with a variety of brands across a number of industries. Allowing us to have a full view of how email marketing teams have handled the changes. 
What Does Email Marketing Look Like in the Wake
of COVID-19?
A group of our email marketing subject matter experts gave us an inside look at what is happening in the world of email marketing today. Uncovering how some of the world's biggest industries and brands are navigating storm.
After the initial shockwave of the pandemic sunk in, marketing teams across the spectrum got to work. Each crafting COVID specific email messaging to send to their clients.  There were many unknowns, but one thing was certain, brands would need to connect with clients more than ever before.
To do this, they would need to show empathy and express their concern of the issue at hand. Additionally, they would have to show their commitment to weather this storm together with their clients.
The rollout was swift. Brands from every verticle sent out emails directly to clients referenceing the COVID-19 crisis.
Many in the form of a letter from their CEO or team leads.  While it was the correct response, consumer inboxes were quickly overwhelmed with similar messaging.
As the weeks went by, it was evident the situation was not temporary. Marketing teams had to determine where to go from here.  What would be the next appropriate move for them? How could they re-start their marketing strategy while being sensitive to the realities of the crisis?
There would be no going back. It was clear that new methods and processes would need to be created and implemented.  Marketers would have to pivot their strategies towards the needs of this new marketplace. It was time to sink or swim. 
Retail brands were some of the first to successfully stabilize their marketing messaging and strategies.  As reported by our email marketing subject matter experts, we have yet to see a reduction in email messaging from our retail clients.
In fact, many have sustained their email campaigns. Utilizing a mix of COVID sensitive messaging and brand promotions to drive customers to their websites in an attempt to stabilize sales. 
While the cadence of campaign messages did not change, the content and focus of their email marketing messaging certainly did.
The strategy here was appealing to comfort at home through lounge wear, and athleisure to work out and office equipment, to furniture and everything in between. Promotions centered around making the task of sheltering in place easier for the consumer were the key to success.
Our data shows that retail brands who specifically provide products for the home or office have increased their email marketing efforts by up to 75%. Specifically those that have an eCommerce capabilities and platforms in place. For example, companies like HP and Office Max have increased their email marketing campaigns to appeal to consumers need for office supplies while the they are working at home. 
An alternative tactic that some retail brands began to implement was including a lot of non-products and outside resources.  For example, the Tory Burch brand focused sections of their email messaging on how the Tory Burch Foundation could help. Highlighting support for the COVID-19 relief efforts and providing links for business owners to seek assistance.
"Offering information that is useful is a great step for helping to promote customers' perception of your brand."
In an effort to boost engagement, other popular brands began to focus heavily on re-engagement campaigns. Mainly placing their effort on abandoned cart campaigns. Customer retention has always been extremely important, especially within retail, but now it is more important than ever.  
 Across the retail spectrum, brands have maintained and increased their re-engagement efforts. Utilizing abandoned cart emails as well as customer loyalty discounts to increase traffic and virtual sales. 
In the financial sectors, the approach to email marketing was different.  Many financial companies were faced with providing a variety of assistance to their clients. Leaving their marketing departments to figure out the best way to communicate helpful information and resources directly to their consumers. 
The financial services sector sent 35% more emails in March 2020 than in March 2019, with equally impressive engagement results to match. There was a 23% increase in opens, 4.6% increase in click-through rates, and 11% decrease in unsubscribes year over year.
As financial brands determined their courses of action, many set out to make sure their marketing messages were more meaningful than ever before. Creating educational and promotional campaigns that would provide information to their customers. Information that would assist in determining their options and navigating new website features. 
Travel and hospitality are the industries that have been hit the hardest during the crisis. With travel bans across the globe and no real indications on how and when travel will actually be safe, these industries are facing more unknowns than others.
In terms of email marketing strategy, these brands did follow suit with the masses, sending out COVID specific messaging at the onset of the pandemic. However, their path back to a new normal is far longer and more treacherous than most.
To date, our teams and agencies across the marketing service landscape are reporting significant decreases in email marketing for these brands as well as overall work volume.
While some in the industry are offering deep discounts on future travel, rental and hotel stays, it is impossible to negate the unknown long term impact on travel and hospitality. Meaning there is no efficient way to determine when and if these industries will regain the stability, they had a few months ago.  
With that in mind, the marketing teams of such organizations will need to focus heavily on brand awareness and perception.  Email marketing messaging being deploying at this time must invoke empathy and provide a human element to the brand. This is the best way to sustain customer loyalty for the time when consumers feel it is safe to travel. 
Healthcare as an industry has been top of mind since the pandemic started. Fortunately, in terms of email marketing, there has not been much impact.  Our SME's expressed that most healthcare brands are running email campaigns and marketing messaging as usual.
One significant change healthcare brands are implementing within their email marketing is a shift in messaging. Many are being careful in terms of what they advertise and how their email content is worded. Prioritizing sensitivity to the stress consumers are feeling as a result of the situation.  Taking into account the verbiage of their messaging, the frequency and quantity of emails they are sending out to consumers. 
Those in the healthcare product market are treading carefully, as to not take advantage of the situation. 
Again, brand perception is key.
Healthcare service brands are taking the empathetic and informative approach to their email marketing. Expressing concern for their patients and outlining the safety measures they are implementing. With the goal of reassuring patients that they are ready and available to care for them when needed. 
Service and Essential Industries
Essential has taken on a whole new meaning in the wake of the pandemic. Brands that deal in essential services and products including food, household goods like paper products and cleaning supplies are facing rapid changes in many areas. Including their digital and email marketing strategies.  
Outside of the big box "essential" brands like grocery chains, Walmart and Target, the food industry has been hit hard by the pandemic.  With dine in literally off the menu, many restaurants simply had to close.  While others looked to push take out, curb side pick-up and delivery as a way to keep their businesses afloat. 
On the whole, the need for immediate digital marketing automation tactics is urgent for businesses of all shapes and sizes. However, it is important to realize that the growth and scale of digital marketing automation strategy will thrive best through partnerships.
Smaller establishments have struggled to take on this challenge, big brands were able to pivot their messaging quickly. Email marketing teams across the industry would start pushing out email messaging that expressed a concern for safety and convenience for consumers emphasizing "contactless delivery" and "simple online ordering". Much like the financial industry, direct email marketing had to educate consumers. Relaying information about how to use new features while also providing information on topics that were top of mind. Additionally, brands both small and large have begun to partner with well-known food delivery services to offer their customers simple dine at home solutions.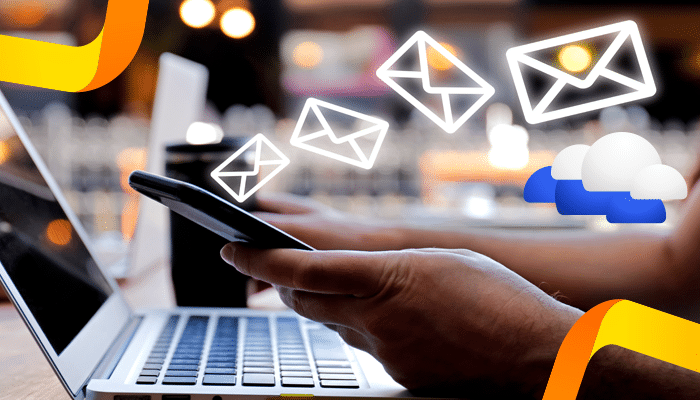 In the same vain, food delivery services like Door Dash, Uber Eats and Grub Hub have pivoted their email marketing strategies in response to the crisis.  With most consumers looking for alternative solutions to venturing to the grocery store, food delivery service brands have amped up their partnerships and email marketing to meet the demand.
With many of these brands pushing for support of local eateries by offering their services at a discount. Succinctly the vast majority are engaging customers via direct email messaging imbued with recognition and empathy for those on the front lines and information to quell concerns about food safety, online ordering and delivery.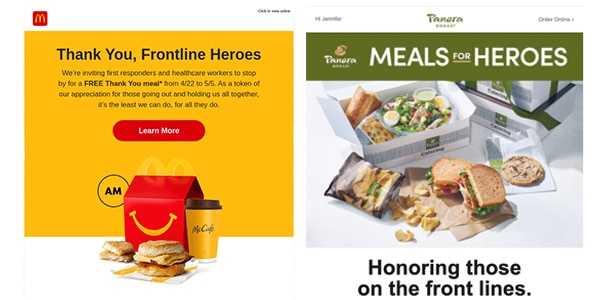 The reality of the situation is, that all industries have been impacted by the crisis.  What seemed like a bump in the road for marketing teams has unveiled itself to be a major permanent shift in strategy.  As a result, marketing teams have relied heavily on direct to consumer marketing tactics like email marketing.
At the core of every email marketing teams' strategy is brand perception.
Successfully navigating the uncharted waters of marketing during this time means engaging customers where and when they need it most. Creating a more relatable brand perception through sensitivity and empathy. Regardless of the impact to their specific industry.  Those brands that are able to appeal to their consumers and show value during times of crisis are the ones that will survive.
Successfully navigating the uncharted waters of marketing during this time means engaging customers where and when they need it most. Creating a more relatable brand perception through sensitivity and empathy. Regardless of the impact to their specific industry.  Those brands that are able to appeal to their consumers and show value during times of crisis are the ones that will survive.
There are no definitive answers to the challenges that lie ahead.  Marketing teams will have to continue to adapt and adjust as the world evolves.  From what we have seen, many brands in a variety of industries are utilizing email marketing to connect with their customers more than ever before. Making it clear that direct to consumer marketing will reign supreme in the 2020's with email marketing as a leading conduit.