Email marketing has evolved over the years. Thanks to the rise of mobile devices there are more email clients than ever before. Everyone's inboxes are packed with emails, making the marketers' ability to break through the email clutter an extreme challenge. 
It's critical to catch and retain your customers' attention enough that they open and click through your email.
This calls for a lot of innovation and contemporary, design elements. That's where kinetic emails enter the picture.
But What are Kinetic Emails?
Basically, kinetic emails are interactive content that boost your email marketing to the next level of engagement. Not to mention fun. Kinetic emails primarily include interactive email design elements, like sliders, search menus, GIFs etc, that create an interactive experience for readers.  
If executed correctly, kinetic emails provide a more website-like experience for users.
Because kinetic design utilizes CSS3 and HTML5 to enhance interactive elements, it is compatible with Gmail, Yahoo, AOL, Outlook 2003, Outlook.com, iPhones, iPads and some Android devices. Many platforms also integrate fallback techniques to ensure that these emails do not render poorly. Especially on email domains that do not support kinetic content and design.
Mirroring a website experience allows users to take advantage of multiple interaction points and explore a host of product offerings. 
Why Are Kinetic Emails Becoming So Popular?
Well, there are a few reasons.  Firstly, consumers want everything at their fingertips, right now.
Thanks to the rise of the connected era, consumers have access to literally everything within seconds. Kinetic emails allow consumers to view and interact with your content and products instantly.  All without having to commit to visiting your website.
By the same token, modern consumers have adopted a choose-your-own-adventure mindset. Meaning, they want to steer the ship when it comes to their interactions with brands. 
Basically, that means they need to be able to peruse your wares at their leisure. Equally important, consumers want to decide when and if they are going to visit your website in their own time. Kinetic emails allow them to do just that. Which in turn creates a relationship of trust between them and your brand. 
As if these weren't enough to get you to dive into adding kinetic emails to your marketing strategy, check out some of the other awesome reasons why kinetic will be taking over the email marketing landscape in 2020.
Kinetic emails are designed around the concept of offering the users a rich visual experience, directly in their inbox. Additionally, visually rich emails use a coding technique that enables creation and rendering of high-impact, interactive emails.
Kinetic emails use animation and style templates to highlight key content. As a result, kinetic design provides more of a website experience within the actual email itself. Uniquely giving users the opportunity to interact with the email content and explore different product offerings. 
The inclusion of digital elements and responsive content, i.e. interactive navigation buttons and collapsible menus, are considered rich user interactions. Integration of these elements creates a personalized experience for the user, making it a rewarding brand interaction. 
Entertaining Email Recipients
According to proven psychological principles, the utilization of interactive content leads to curiosity among email recipients. Of course, curiosity and exploration often foster higher engagement rates which is an important goal for any marketer.
Creating an entertaining way for users to interact with your brand and explore your products creates excitement. Coupled with a commitment-free way for consumers to explore your products, this strategy builds trust and ultimately boosts brand loyalty.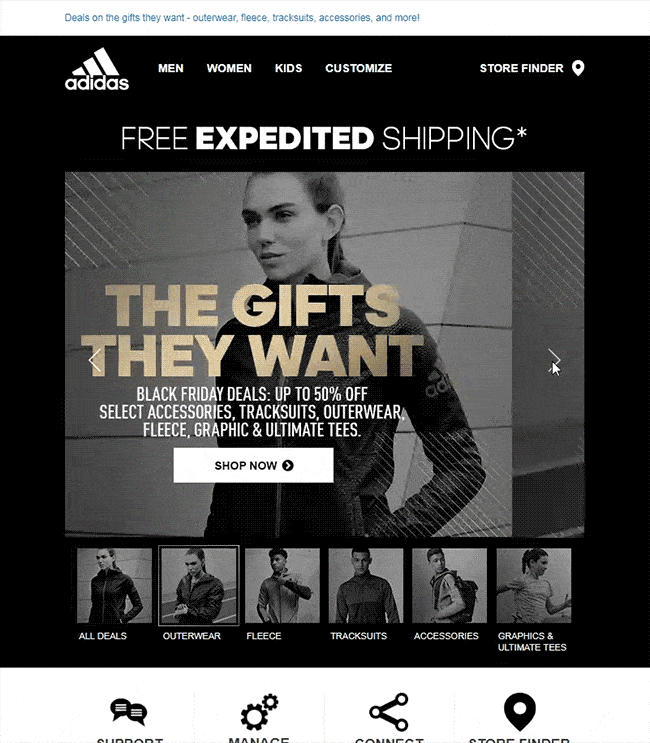 In order to build a reciprocal relationship with customers, personalized marketing is critical. As a matter of fact, it plays a major role increasing customer awareness, loyalty and endorsement.
Not only that, email personalization is the basis for all kinetic email marketing.  In fact, kinetic emails take personalization a step further by creating an interactive, choose your own adventure type style for clients.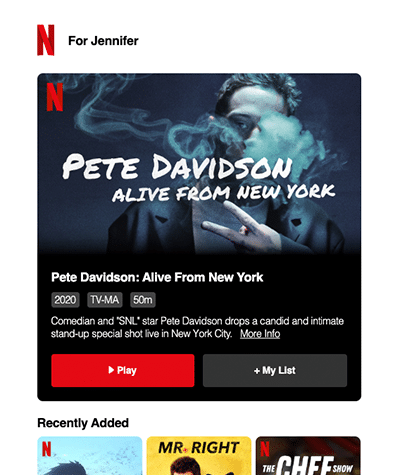 The key ingredient of dynamic emails is the content. It especially plays a vital role in retail campaign management because it provides in-depth user information.
Notably, content can be leveraged to determine a customers user affinity towards a certain product or products. These insights can be utilized to serve up custom suggested content and purchases for clients throughout their customer journey.
The combination of dynamic and kinetic elements in your email marketing is a guaranteed to boost engagement.
Marketers can strategically push customized notifications to a customers inbox. Generally these are based upon their persona, interests and preference history. Consequently creating a convenience factor for the customer.
In addition, it facilitates a stronger connection to the brand. Utilizing targeting in your email strategy can only increase the interactions your customers will have with your kinetic emails.
Kinetic emails are winning over marketing teams and setting email marketing on fire for 2020. As marketers, it is our job to identify and deliver experiences that our customers are looking for.
Looking ahead at 2020 trends, it is clear that kinetic emails deliver exactly what customers are looking for.
An interactive, engaging experience with our brands.  In other words, an interaction that allows them to take control, exploring product offerings without the pressure of making a commitment.
Today's customers want to make informed decisions on their own terms. Kinetic email allows them to do that in a simple and efficient way.  If you haven't begun to integrate kinetic element into your email marketing strategy you really should. The benefits to your customer engagement strategy will be numerous.