Born from a bright idea that debuted in co-founder Shane Heath's hand at Burning Man, MUD\WTR® started as one man's solution to the jitters and disrupted sleep he experienced due to his daily coffee consumption. 
"People asked him, 'What the hell are you drinking?" MUD\WTR's VP of Brand Dersu Rhodes explains. "Then he shared it with people, and all of a sudden he's got this group of friends who are placing orders on his Shopify store that he set up over a weekend." 
That initial curiosity for a coffee alternative grew into a cult following for the mushroom-based beverage that pairs the energy of coffee with the benefits of daily wellness. With just a fraction of caffeine in coffee, MUD\WTR fuels your day without the jitters or headache-inducing crash.
Brought on to boost the brand on both current and emerging channels, Dersu Rhodes embraced the MUD\WTR's offbeat beginnings and outsider community to amplify the stories and people that inspire people to break up with coffee — or at least give something better a try. His unconventional approach has resulted in a brand that's grown through a customer base that feels genuinely connected to MUD\WTR's messaging, culture, and products. 
Want to follow Dersu's lead? Try these brand-building best practices, inspired by his work at MUD\WTR.
Get Personal With Your Brand Stories
Rather than functioning as faceless leaders behind their beloved brand, MUD\WTR founders Shane Heath and Paul DeJoe identify as part of the community they've built, along with the members of MUD\WTR team. While the brand could communicate their affinity for better living and continuous exploration, they choose to step out as part of their brand on their blog, in marketing materials, and at public events.
"During the pandemic, it was really challenging to feel optimistic and uplifted," Dersu admits. As lockdowns began affecting his mental health, Dersu discovered cold plunging online, a meditative practice of immersing yourself underwater below a temperature of 60 degrees. Through cold-plunging, he also learned the transformational technique of deep breath work and the healing powers of participating in natural settings outdoors.
But he wasn't the only one. "At the same time, the founders of MUD\WTR were doing the same thing, and I wanted to spread the message of these modalities of always being the seeker and finding different ways to alter your consciousness as part of the brand," Dersu explains. "And suddenly, you have this expansion of fans on the same wave, who feel burnt out from being caught in a rat race. It's why we as an organization have constantly given our audience and our customers permission to feel."
Through MUD\WTR's blog, Dersu's team created a series around their cold-plunging adventures that includes the benefits of cold-plunging, 101 tips for newbies, and budget-savvy how-tos (no luxe retreat needed). With personal anecdotes and photos, these refreshingly-real posts read like an invitation from a friend, so it's no surprise that many MUD\WTR fans have joined in.
Brand-Building Takeaway: If your team members have interesting stories or personal passions that might resonate with your customer community, share them. Putting faces to your brand allows your customers to see themselves in the people behind your products. 
Embrace Your Niche Now (Expand Later)
MUD\WTR began with an enthusiastic following of outdoorsy types, the psychedelic-curious — people seeking new ways to heal from trauma and see life beyond the norms. To cultivate community, the brand leans into the ideas of its followers by celebrating them in the way they communicate about their coffee, along with the influences surrounding it. 
"The Enlightened Explorer is the description of who they are, and their people that seek out something alternative from what they've been presented with," Dersu says. "We want people to seek out another solution and question the norms. Our biggest passion is to encourage people to want to look at things differently, to question, is this the best way or is this the best thing for me? Is this the healthiest option — just because everyone's drinking coffee? How am I actually feeling?"
MUD\WTR's message is well received not just due to its content but also its tone. "How can we speak to our customers as they would speak to their friends?" Dersu asks. "People tend to swear a lot. That's why we use swear words. And what we found in our copy is sometimes that conversational and cheeky messaging reflects real life. It's like your friend kind of poking you to say, 'Hey, check out this new thing that I found.'"
Now that they've reached a place of sustainable growth, MUD\WTR's looking to who could be newcomers to their alternative coffee movement by honing in on the wellness aspect of their brand and its products. 
"The company itself is shifting who those ideal clients are because it's really been geared to young folks," Dersu says. "But now everyone's starting to realize, including an older demographic, that they have trouble with caffeine and coffee, too."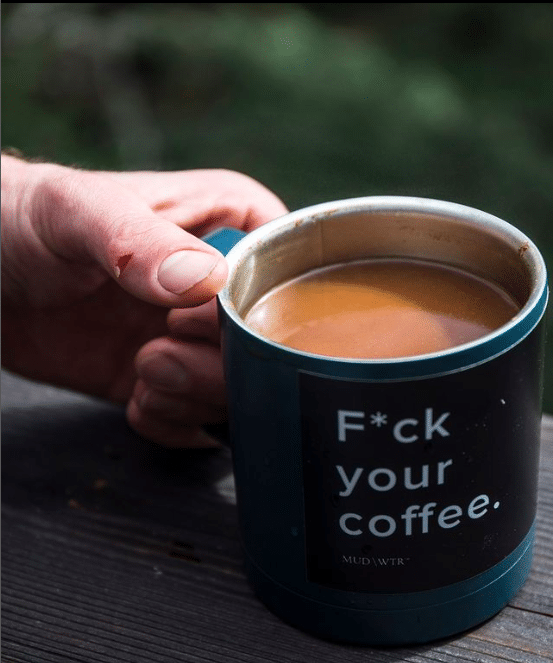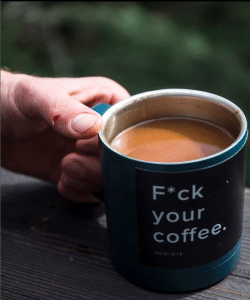 Brand-Building Takeaway: Sometimes, in the pursuit of rapid scale, brands can miss out on cultivating a community through focused targeting and niche appeal. Don't discount the power of a small but passionate following. That excitement for your brand can generate buzz that spurs growth beyond your expectations. 
Let the Medium Influence the Message
While MUD\WTR can stand out as the not-coffee coffee at the grocery store, debuting in a coffee shop requires a more subtle approach, and that's where they flex their brand message to meet the moment.
"The biggest challenge that we found recently is coffee shops. There, our main messaging is, 'We're not mad at coffee, just disappointed.' And naturally, you would sense that going into a coffee shop would be challenging to present that. We try to come at it a little bit more lightly with messaging that amplifies an alternative to coffee, asking people to question their relationship with coffee and their relationship with caffeine."
Brand-Building Takeaway: Your core messaging is foundational to your brand, but make tweaks as needed. Consider your segments and develop variations of your messaging that best resonate with those customers and in those spaces. Not sure how to go about it? Instead of an outwardly negative campaign about competitors, ask customers how those products make them feel while presenting your better option.
Keep It Real With Your Testimonials & Reviews
Listening to their audience who preferred real people over glossy influencers with thousands of followers, MUD\WTR looked to the growing power of unpolished TikTok testimonials and raw reviews to communicate the benefits of its products. 
"Testimonials are like the new currency," Dersu says. "Everybody was doing them on Tiktok. At first, I was so confused as to how this was our best creative foot forward. But then we realized that they're similar to an Amazon review."
"If you go on Amazon to buy a product, you scroll through the reviews, and you're always searching for the most genuine-looking," Dersu says. "You can spot the ones that were paid for or manufactured by the brand. But then you scroll through, and you see this super grainy photo someone took in their backyard, and you're like, 'Okay, I trust that this guy bought this thing, so I'm gonna read this review.'  
So now we see that good testimonials can't be perfect. They should be shot by the person using the product."
MUD\WTR's highest performing testimonial ad on TikTok and Facebook featured a woman in her kitchen, and you could hear her baby in the background. No spotlights, no glitter. Just a customer who loved her newfound take on coffee. "It was almost like she was discovering it in front of her in front of her audience, which was amazing," Dersu says. 
Brand-Building Takeaway: What's your brand's sweet spot? By taking a second look at your approach to testimonials and reviews, you can discover what your customers really want to see. Just like MUD\WTR, you may be surprised at what you find. Test an influencer post against a user-generated testimonial, and your customers will be sure to tell you through your engagement numbers.