Fast-changing consumer habits, in this new world we find ourselves in, have put increased focus on digital marketing into overdrive. Brands and marketing teams are readjusting rapidly to a world where direct-to-customer marketing messages are increasingly important, tailored and impactful. Because of this growing opportunity, and the need for higher engagement levels, smart marketers are shifting their focus to the most effective solutions, such as In-App Mobile Marketing. 
As of April 23, 2020 there were 3.67 billion active mobile device social media users around the world. (Statista).
While In-App Mobile Marketing is not necessarily a new concept, many brands have yet to implement it. With consumer usage of mobile apps at an all time high, brands of all shapes and sizes are looking to reach, engage and activate consumers on a global scale. The best way to do this is investing in a partnership with an in-app interactive ad platform. 
Interactive In-App Mobile Marketing on the Rise
Through 2019 we saw the rise of engaging and interactive content. A steady increase in mobile device usage and constant evolution in design capabilities allowed methods like
kinetic email marketing
and interactive in-app mobile marketing to push the boundaries of customer engagement to new levels.
Mobile device usage is increasing astronomically, and it's in every content marketers' best interest to keep pace with that trend.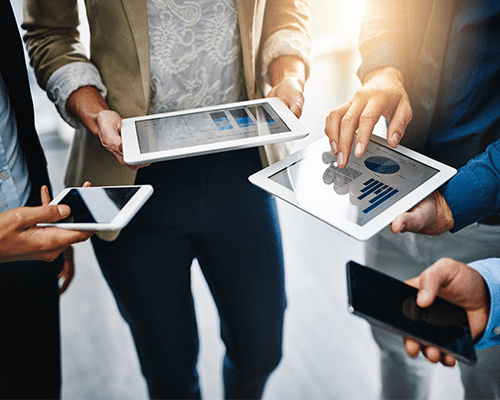 Just as important is the ability to navigate the appropriate depth of personalization to infuse in your marketing. No one wants to cross a line with their customers. Rather we strive to relate and entice, not creep them out with content that is too wildly specific. Ethically utilizing extensive data and hyper-personalization to do so. 
On average, people spend 3.43 hours per day on mobile, with 90% of that time in-app…and that was before movement restrictions sent mobile time spent surging. In the wake of the pandemic, many brands are exploring an array mobile marketing tactics in an effort to reach the growing number of potential customers turning to their mobiles devices for entertainment or moments of relief during this crisis. 

What many marketing and content managers are discovering, is that visually-rich and engaging in-app mobile ad strategies, like TreSensa's in-app playable ads, are the way to go. 
In-App Mobile Marketing Benefits
It is no secret that the goal of every brand is attracting and retaining customers.  As the landscape and client interests have evolved, so too have the methodologies. In an increasingly noise-filled digital age, measurable engagement and interaction have become key elements for determining success.
The best way for brands to differentiate and drive engagement is to create authentic consumer connections. Implementing in-app mobile marketing strategies that promote brand awareness and engagement, in the places where potential customers spend a majority of their time is the key. And that is where in-app mobile ad's like TreSensa's come into play.
Considering the fact that 40% of online transactions are done using a mobile device, reaching consumers via the mobile apps they are already frequenting seems like a no brainer.  Especially as global brands that  are utilizing in-app mobile marketing strategies like playables are seeing 56% better audience targeting, 54% more effective customer engagement and 20%+ average lift in purchase intent. Many also saw opt in engagement rates of 20-50% and 60% lift in brand consideration.
Making In-App Mobile Marketing Strategies Simple
While there are a few different players in the in-app mobile marketing game, one of the leaders of the pack is TreSensa.  Through their mobile engagement platform and Creative Builder software therein, TreSensa is able to build and programmatically distribute a number of interactive in-app ad formats across any ad supported app in the Google Play and Apple App stores, as well as into all major social platforms like Facebook and Snapchat. 
The addition of a partnership with Theorem in 2019 allowed clients access to turnkey in-app mobile marketing solutions with end-to-end support. 
In addition, the partnership provides global brand clients with original concepts and design support. Over the past year, dozens of demo playables have been developed for TreSensa clients via the Theorem team that demonstrate the flexibility of Creative Builder Universal Themes.
Working with an in-app mobile marketing partner that provides end-to-end support, including creative development, builds with Q/A,  A/B testing and launch support will ensure a simple and successful in app mobile marketing strategy. 
It was already clear that in-app mobile marketing was on the rise and many savvy brands took notice. As we begin to understand the impacts of the pandemic, many marketers are changing their messaging strategies and exploring new tactics. Brands across the globe are turning to in-app mobile marketing strategies to help reach their consumers and sustain their business through the crisis.