As more customers flock to social media to discover the next big trend, research future purchases, and engage with influencer content, brands have become savvy at meshing their content into our daily digital lives. And with so many options to choose from, customers have grown increasingly fond of the brands that give them new and convenient ways to buy their products, which is why more and more companies are offering a Buy Now, Pay Later across their digital platforms.
What is Buy Now, Pay Later (BNPL)?
Buy Now, Pay Later empowers customers to make a purchase and pay it off over time in installments. BNPL offers are often interest-free, which can be a selling point for customers who are on the fence about taking the plunge on a big purchase.
The Benefits of Implementing a Buy Now, Pay Later Offering
Not sure if you're ready to pursue something new in terms of payments? Before you dismiss BNPL as a payments fad, review these data-backed reasons to jump on board.
BNPL's Growth is No Match for Generational Divides
While it's mostly used by Gen Z and millennials, the adoption rates for BNPL have more than doubled within every age group in just two years. It's safe to say that this easy way to pay will continue to gain steam over time, and brands have a lot to benefit by hopping onto the bandwagon.
Make Your Products More Accessible
This flexible financing model allows retailers and D2C brands to make their products affordable to customers who may not have the spending power to pay all at once. For customers with champagne taste and a craft beer budget, that luxury handbag is well within reach if the brand offers BNPL. To put it into numbers, with BNPL, you can spend 50 dollars a month over one year versus spending 600 dollars in a single day.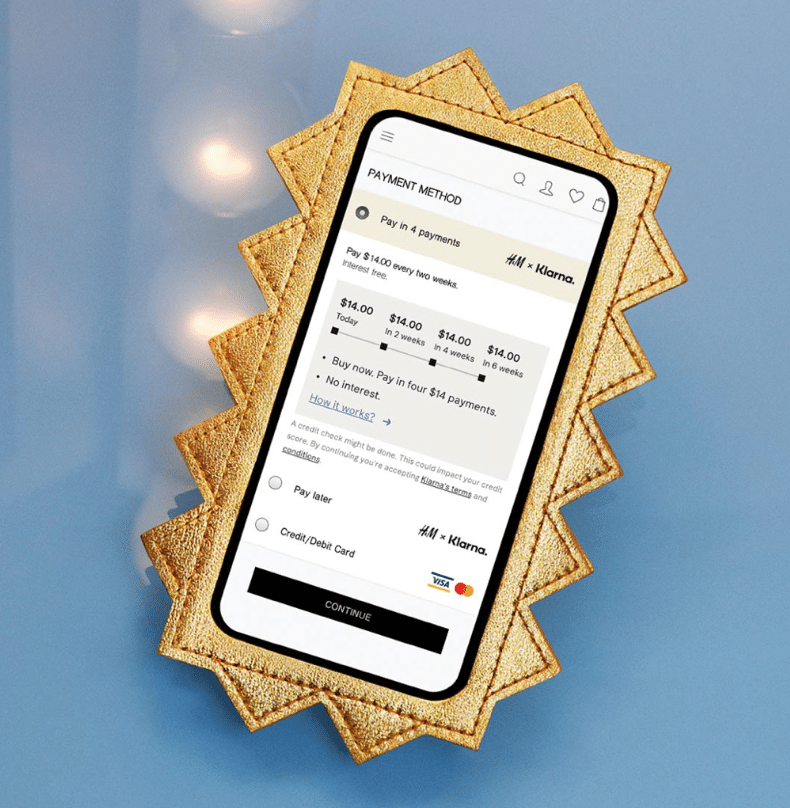 That said, BNPL isn't limited to products with high price tags. Middle-of-the-road retailers like GAP and price-pointed D2C brands such as Warby Parker offer the same convenience, allowing customers to pay in four installments. And data shows that customers of varying degrees of spending capacity are responding in kind, with both average order values and total spend per customer on the rise.
Double Your Conversion Rates & Increase Average Order Value
When it comes to the metrics that matter, BNPL may just be a magic bullet. A recent projection predicts that retailers can increase conversion rates between a whopping 20 to 30 percent. As for average order value, the perception of increased spending power through smaller installments invites customers to toss a little bit more into their carts – to the tune of a jaw-dropping 30 to 50 percent increase in average order value. 
Considerations Before Your Brand Adopts BNPL
If BNPL sounds like a no-brainer, it's because it's the future of how people pay. Although the benefits are plenty, there are some things to consider to ensure it serves both your business and your customers well:
Do your research on merchant fees, which can be higher for BNPL options.

Look to high-performing merchants who are leveraging BNPL well and follow their lead when it comes to how you promote your offering.

Test your BNPL messaging with a focus group before launch so you can ensure that your policy is crystal clear for customers who opt-in.

BNPL can encourage customers to rack up debt they can't afford, even in installments, so establish an appropriate and empathetic late payment response.
By doing your homework and planning for potential pitfalls, you can secure BNPL as a revenue driver and retention model for your business for years to come.
Evaluate Klarna's Technicolor Buy Now, Pay Later Services
While there are many service providers to choose from, Klarna reigns supreme as the gold standard for BNPL. With a plethora of features that range from on-page callouts to BNPL breakdowns in your checkout flow, their suite of offerings makes it easy to go all-in with a new way for customers to pay. Plus, Klarna provides you with a ton of resources to help you make the most of its services.
Use the info you gather from the BNPL considerations section above to help you create a wish list so that your business needs and goals can guide your BNPL decisions. And be sure to put Klarna first on your list when you decide to begin evaluating service providers. That way, you can start with an idea of just how much you can do with a BNPL service that's dedicated to amplifying this easier way for customers to pay.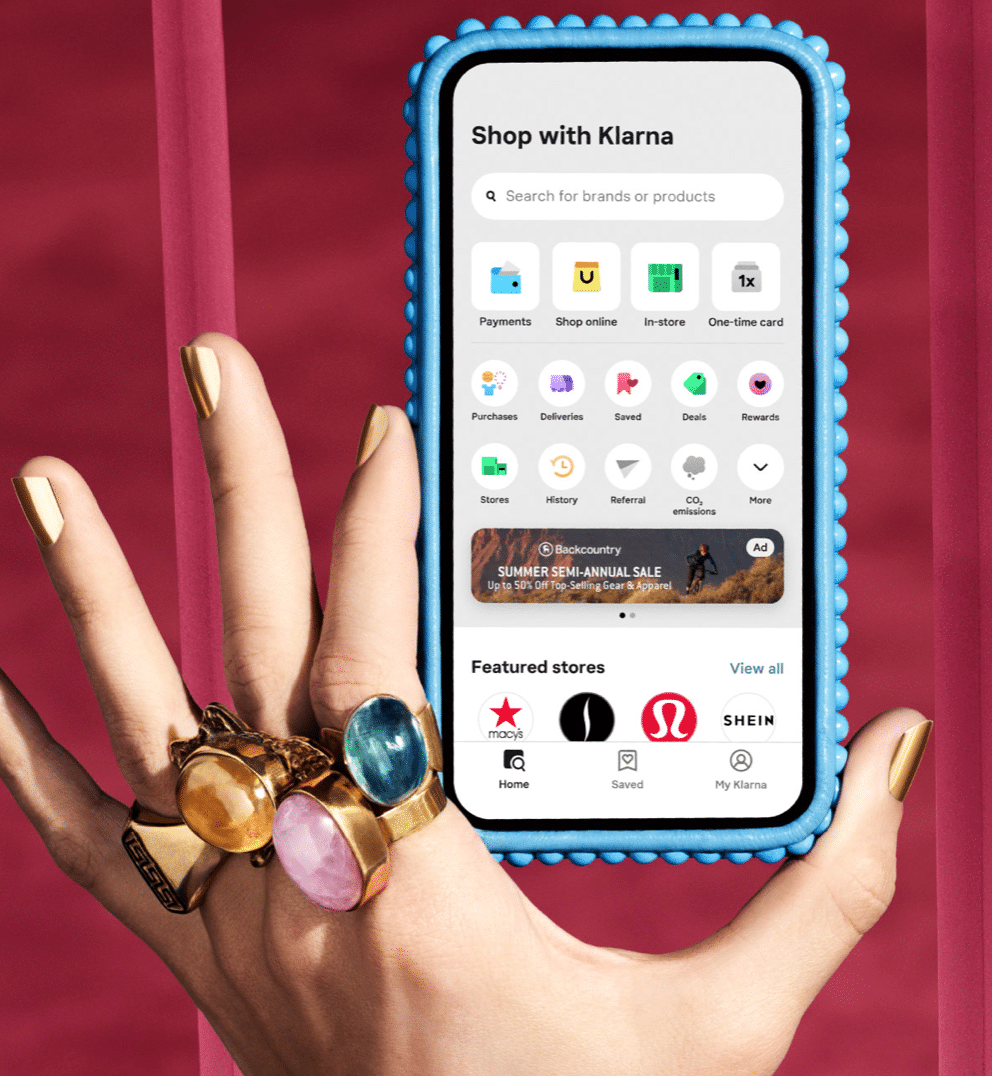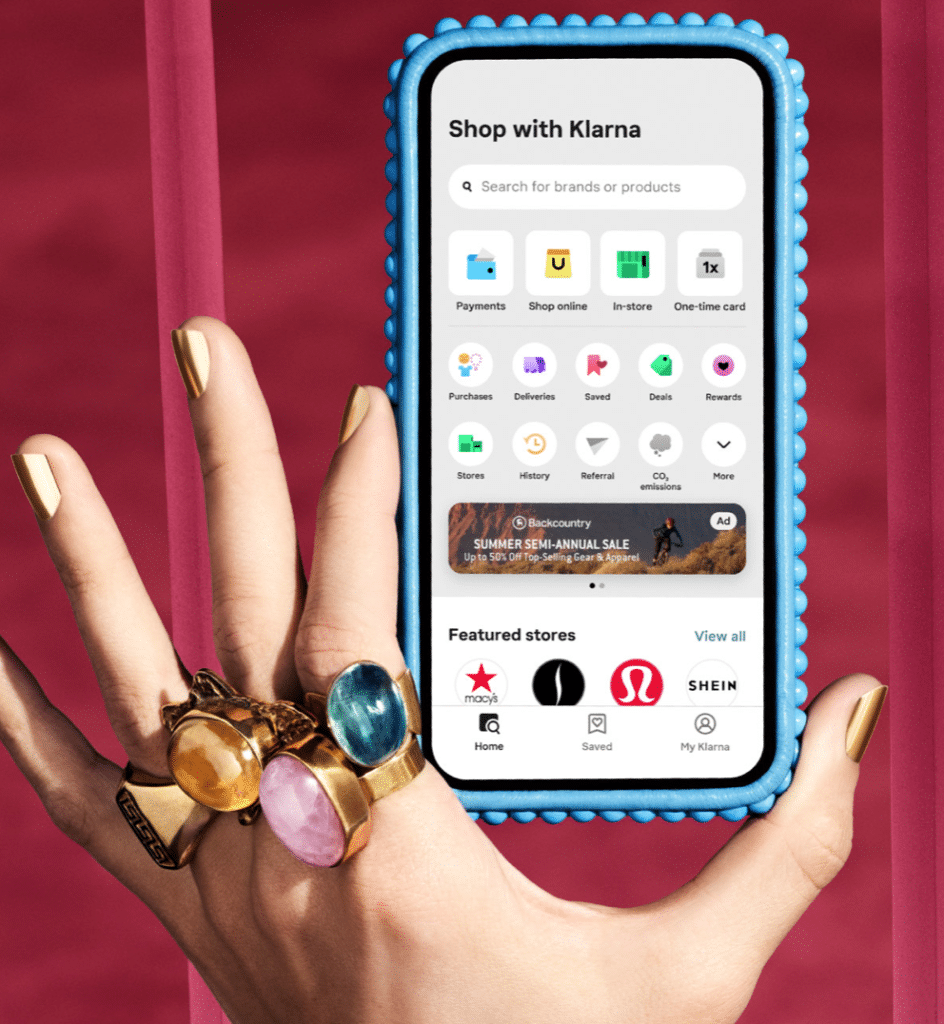 7 Ways to Promote BNPL in Your D2C Marketing Materials
Customers and prospects can't enjoy your Buy Now, Pay Later option if they don't know about it. Lean on these seven ways to meet them where they are and make sure they don't miss out on this convenient way to pay.
Customers and prospects can't enjoy your Buy Now, Pay Later option if they don't know about it. Lean on these seven ways to meet them where they are and make sure they don't miss out on this convenient way to pay.
Show the Affordability of Items with a BNPL Breakdown Next to the Full Price
Getting customers to go all-in on an item they're perusing is much more likely if you show them what's possible. Position your BNPL option on each project page alongside the total price. For even greater flexibility, you could let customers choose their BNPL installment cadence by offering a menu of options that includes "Pay in 4" and installments over three months, six months, or twelve months.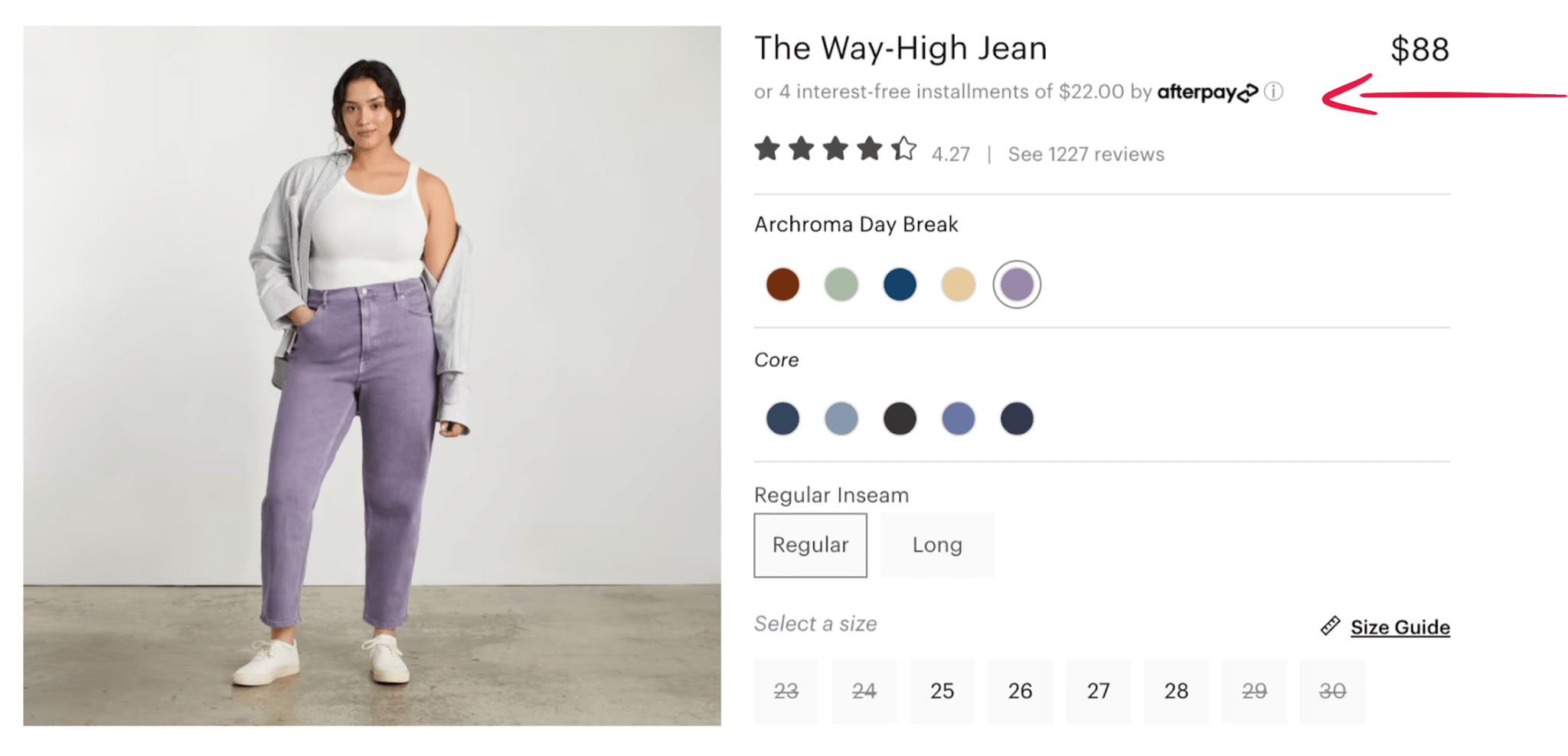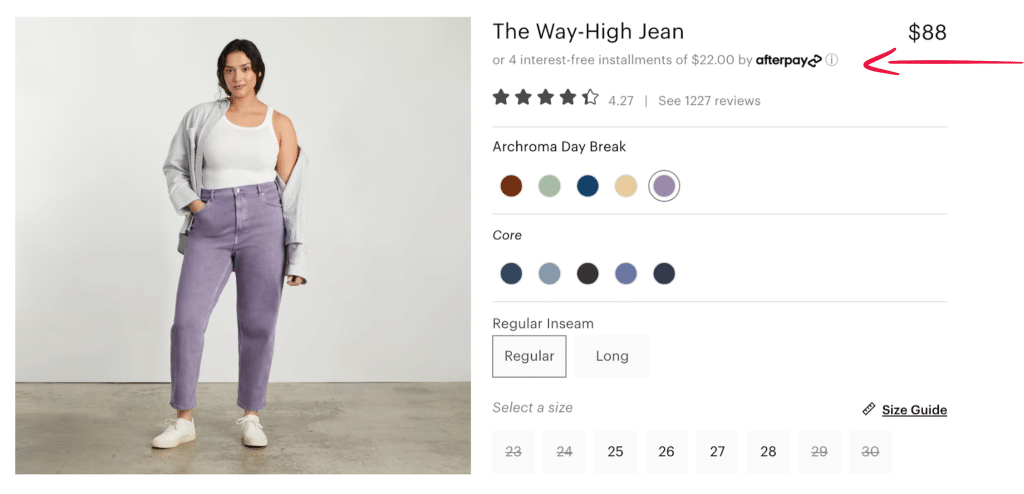 Increase Customer Engagement By Crafting Campaigns Through a BNPL Lens
Your omnichannel campaigns offer many ways to let customers know they have a choice in how they pay. From product curations in emails to pre-sell pages, consider which pieces of marketing collateral are prime real estate for a BNPL spotlight. 
For example, your pre-sell page is already designed to move customers from consideration to cart at a faster pace. According to the conversion data mentioned above, displaying the monthly cost of its featured items would help what is typically a high-performing landing page achieve even greater results. 
Boost the Appeal of Your Retargeting Ads By Offering a More Accessible Way to Pay
Coax a customer back to your product page with retargeting ads that feature your Buy Now, Pay Later option. One of the main reasons a customer visits your website but never makes it to checkout, let alone the cart, is because they'd like a better price. 
By placing an item they've already shown interest in adjacent to a BNPL breakdown that lets them pay a fraction of the full price over time, you're much more likely to convince them to return to your website and finish what they started.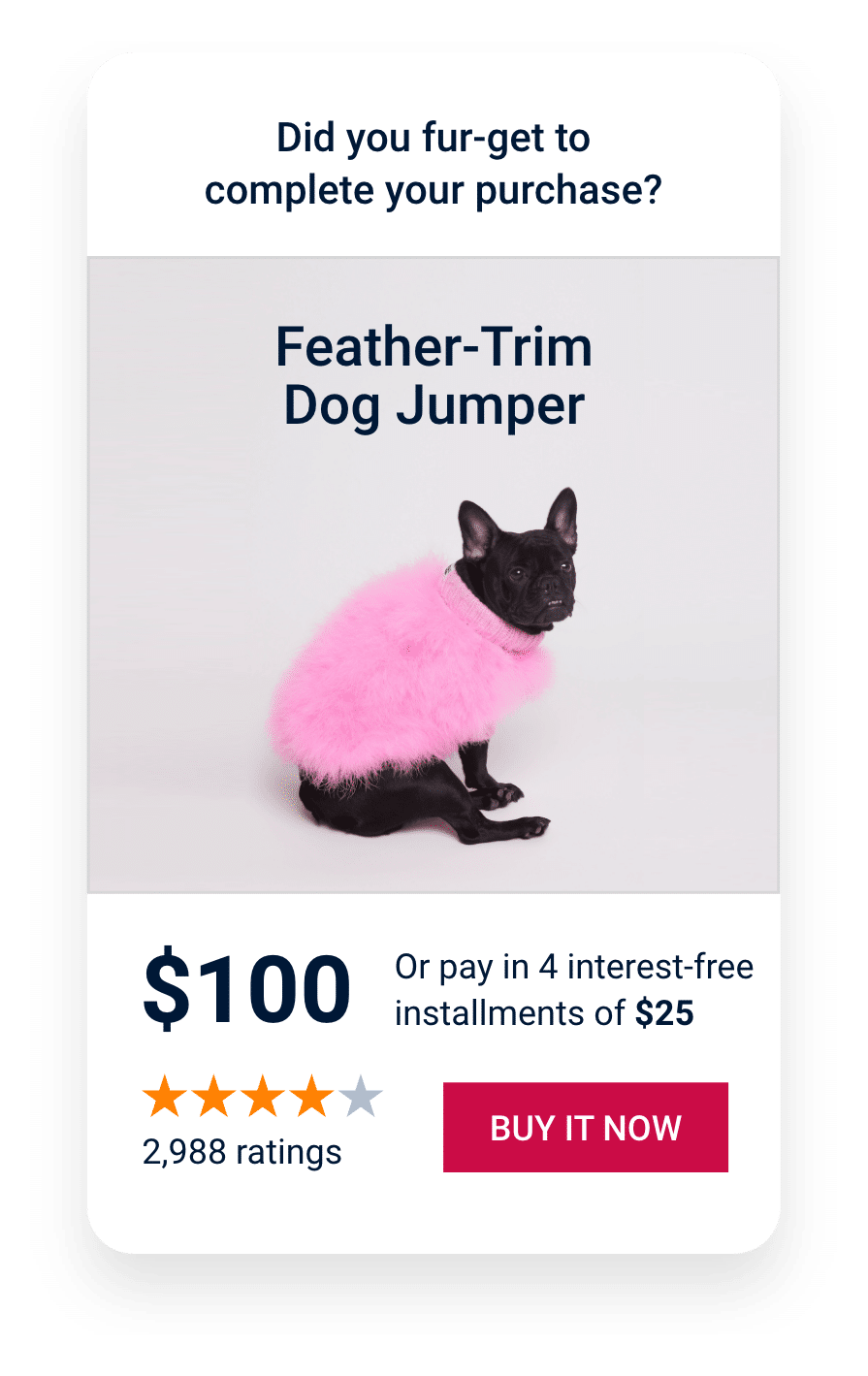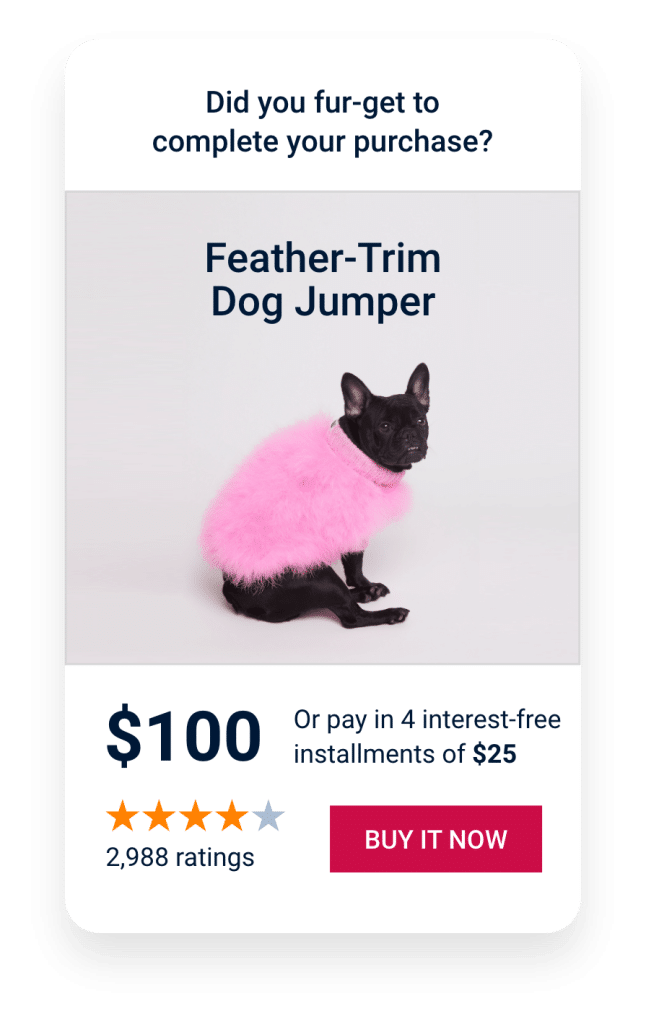 Make Would-Be Buyers Do a Double Take By Promoting BNPL Options Via Exit Pop-Ups
BNPL could help you catch customers before they leave your product page. Create a dedicated pop-up promoting your Buy Now, Pay Later program that launches when a customer attempts to exit your website.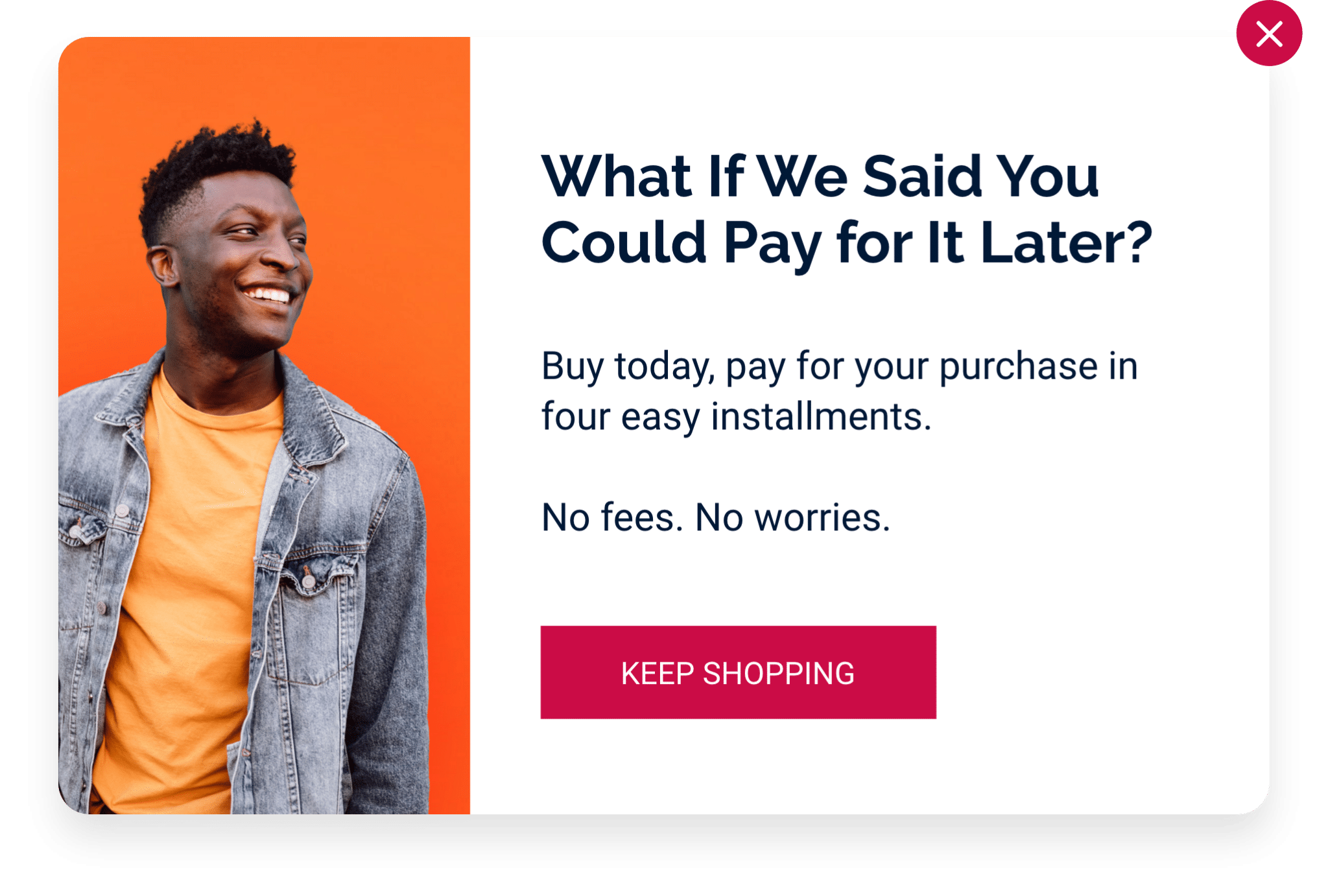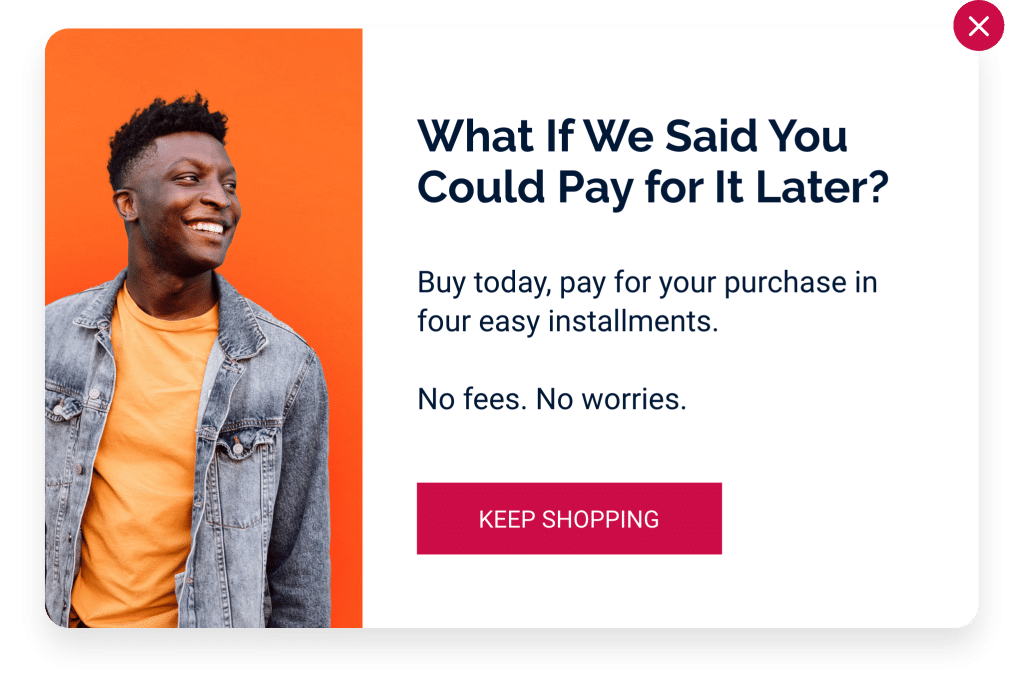 Add a BNPL Option on Your Checkout Page to Increase Conversions
Did you know that the number one reason people abandon their carts is due to extra costs tacked onto the price they were already on the fence about paying? While there's nothing you can do about taxes and sometimes free shipping just isn't in your budget, you can advertise some wiggle room at the checkout by offering Buy Now, Pay Later right as a customer enters their payment information.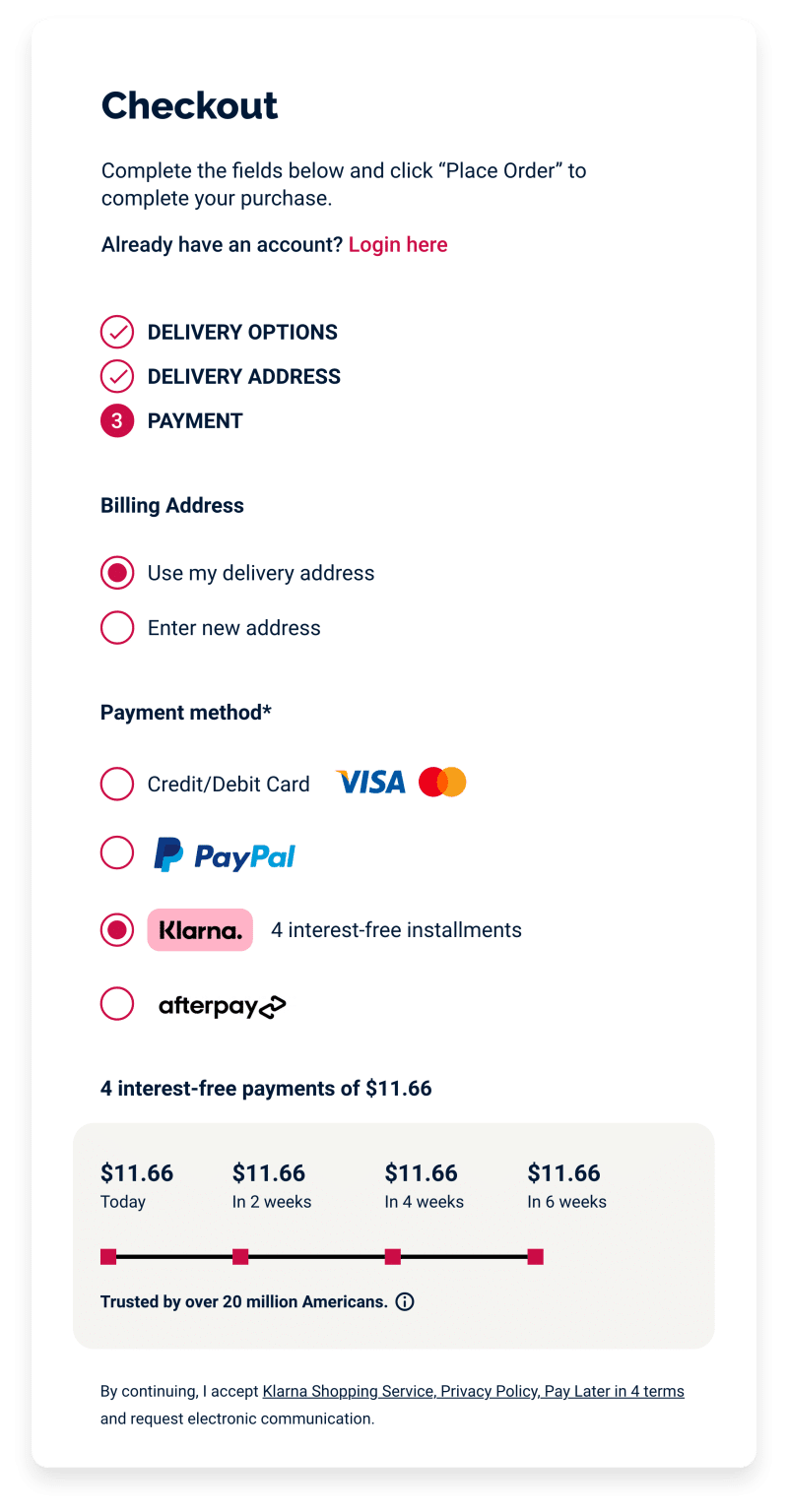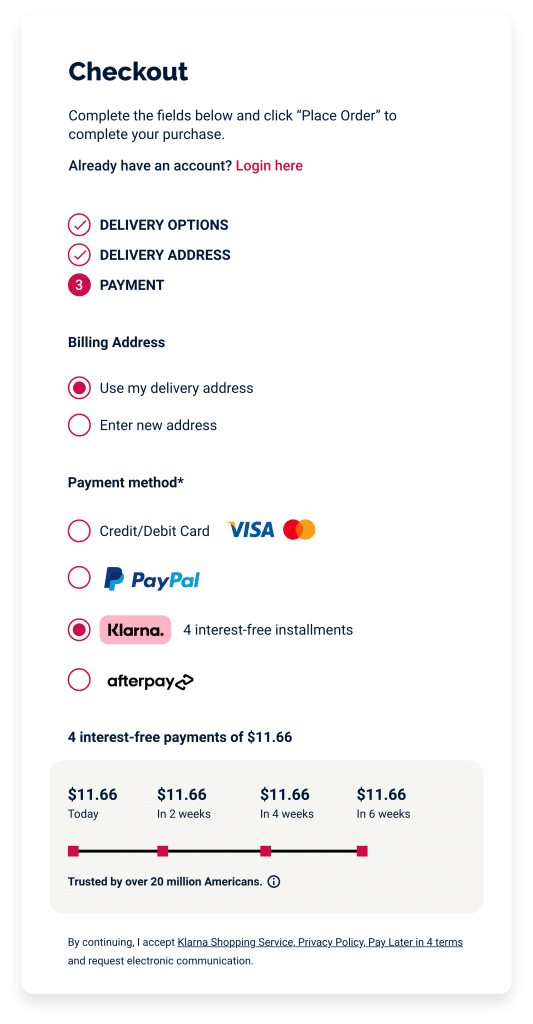 Take on BNPL with a Twist: Bring the Fitting Room Home with Try Now, Pay Later
Give customers the thrill of a boutique experience with unlimited try-on capacity in the comfort of their homes. Try Now, Pay Later encourages shoppers to fill their carts with the yeses and the maybes, knowing that they can buy, try, and return without any risk. Best of all, customers won't spend a cent until they've vetted all of their items and selected the ones they'd like to keep and ultimately pay for. The carefree aspect of this BNPL twist can boost average order value thanks to the ability for customers to casually add items to their order that they otherwise would have passed on.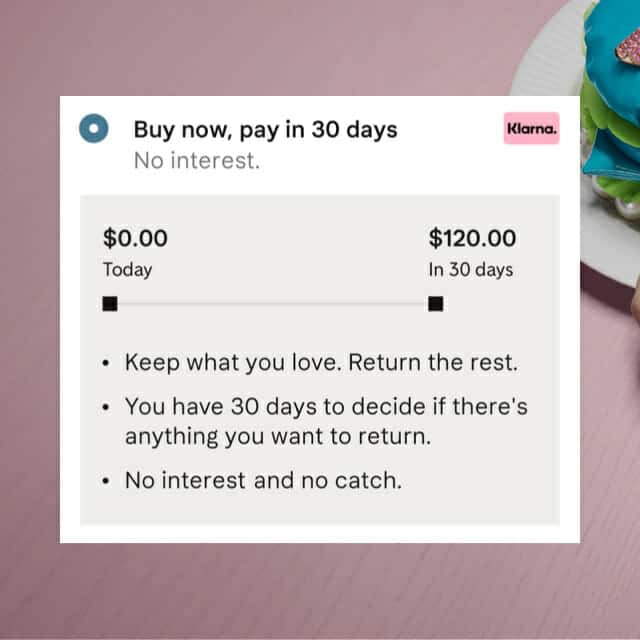 Add BNPL to your Abandoned Cart Email Series to Increase Winback Rates
Dedicated to drawing would-be customers back to their carts, your abandoned cart email series can benefit from a Buy Now, Pay Later breakdown. In the same way your abandoned cart email series tells customers when a carted item qualifies for a discount, it should let them know that your company offers an interest-free way to pay for items in smaller increments over time. Consider adding an email that shares the benefits of BNPL as it pertains to their cart.
And don't stop there. In addition to email, meet your customers directly on their ever-engaged phone screens awith a BNPL nudge via SMS. With soaring 98 percent open rates, SMS and the lure of BNPL is sure to create a high percentage of conversions.
Chances are, your Buy Now, Pay Later strategy will evolve over time. But just like any sound marketing strategy, the key to your success will be the speedbumps that cause you to pivot toward better solutions as you go. Start by researching BNPL providers and keep tabs on how peer companies are leveraging Buy Now, Pay Later. Soon enough, you'll have the data and experience you need to create a flexible payment solution that is perfectly tailored to your customers.