As the climate crisis becomes increasingly urgent, brands are taking note of their own carbon footprint. More than a trend, the shifting attitude toward sustainability in production processes, products, branding, and marketing, is primarily driven by consumers seeking to do business with brands that share their values. And no business community is responding to their needs more effectively than D2C brands.
D2C Consumers and the Ever-Growing Case for Sustainability
As shown in the figures below, sustainability is more than a nicety. Consumers' overwhelming demand for climate action and resource conservation make eco-savvy moves on behalf of D2C brands an absolute necessity. While the shift to sustainable business practices can sometimes come with a cost, its benefits are well worth the effort. 
81 percent of consumers believe companies should contribute to positively impact the environment (Nielsen)
80 percent of Gen Z and 85 percent of millennials agree that it's "extremely or very important that companies implement programs to improve the environment" (Nielsen)
About six in 10 consumers are willing to change their shopping habits to reduce their impact on the environment (IBM)
77 percent of consumers are willing to pay more for environmentally-friendly products (SurveyMonkey)
The Benefits of Sustainability as a D2C Brand Pillar
While the shift to sustainable business practices can sometimes come with a cost, its benefits are well worth the effort. If organizational stakeholders are the barrier between your desire to implement sustainability initiatives and taking action, be sure to share these upsides to your proposed investments.
When over half of consumers say they'll change their shopping habits if it means they'll be supporting a sustainable brand, it's safe to say that it literally pays to promote sustainable products and practices. This decision could be the influencing factor in why a prospect chooses to shop your D2C brand as opposed to your competitors.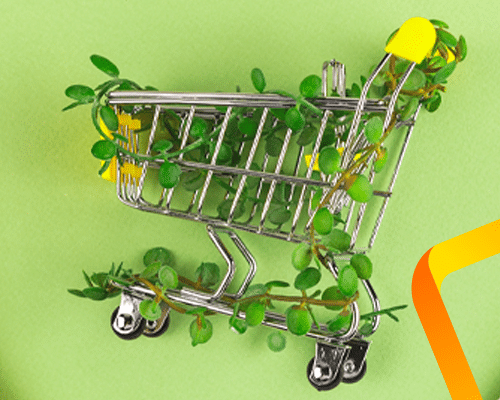 Gen Z and millennial consumers are changing the game when it comes to doing business. The rise of social commercemeans that consumers and brands are personally engaging with one another more than ever before. And just like the friends that populate their feeds, these consumers expect the brands they love to share and promote the causes they care about. 
Creating a sustainability commitment for your brand now can help your business build momentum around initiatives that will contribute to your continued and future success. From iconic brands like Pepsi to growing D2C newcomers like Ponto Footwear, sustainability is more than a passing fad. It's a priority. With the increasing number of brands adopting and promoting sustainable practices, the crystal ball is abundantly clear: As others parade the torch for change, the brands that shrug their environmental responsibilities risk being left behind. 
5 Ways Your D2C Brand Can Champion Sustainability
Sustainability is more than a buzzword, and consumers are keeping tabs on what brands are doing to back up their environmental commitments. Consider these eco-friendly initiatives to support your brand stance.
Can't invest in a product update right now? Your D2C business can still go green when it comes to packaging materials. In fact, this is one of quickest and easiest changes you can make. According to the Environmental Protection Agency, containers and packaging amounted to a staggering 82.2 million tons of municipal solid waste generation. In 2018, that was 28.1 percent of the total MSW. As D2C brands tap into new ways to protect our resources, their packaging choices can change the trajectory of these frightening statistics. 
From edible water bottles to custom biodegradable poly mailers, the way D2C brands deliver their products is changing for the good. Packaging can be considered sustainable for a variety of reasons, including:
Using raw materials or 100-percent recycled materials

Relying on a strategically minimized product process

Extending its life cycle through eco-conscious design (For example, H&M's shopping bag transforms into a hanger)
Just because packaging claims it's eco-friendly doesn't mean it's sustainable or ethically sourced. To ensure that your packaging is the real deal when it comes to sustainability, visit the Sustainable Packaging Coalition for helpful guidelines and recommendations. 
In our ever-digital world, the once paper-dependent workplace provides ample opportunities to conserve resources in ways that will not only save us money on supplies but make us more efficient and ultimately more successful in the long run. 
Consider your processes and people. Could your business do the same? As thousands of companies make the shift to digital around the globe, it's wise to conduct a trial run and see the benefits for yourself. 
You don't have to dedicate an entire marketing strategy to your sustainability initiative the moment you begin. To start, try one of the above ideas and measure engagement.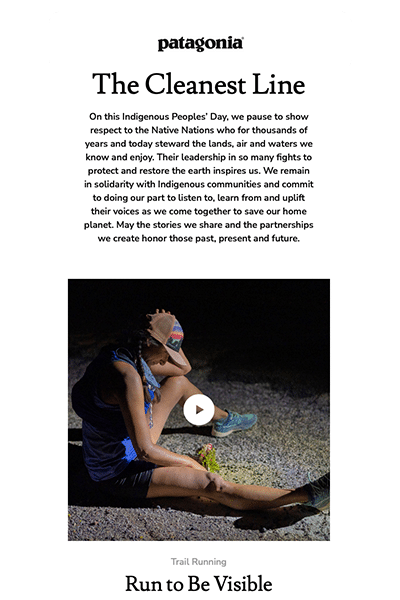 Sustainability begins with your culture. Not sure where to start? Try these ideas to incorporate sustainable practices into your day-to-day process and policies, including how you treat your employees.
Create a corporate social responsibility program supporting sustainability initiatives
Reduce carbon emissions with work-from-home flexibility 
Opt for train travel over air travel
Cut down on the need for air travel through virtual meetings and conferences
Consider sustainability regarding your employees with policies and perks that prevent burnout like wellness stipends, mental health days, and unlimited PTO
Be sure to share these decisions on your company page so that prospective customers and employees can see that your commitment reaches beyond external initiatives to benefit the employees who support your company's success. 
Craft your sustainability commitment today
No matter how you approach your sustainability commitment, making and communicating efforts to conserve resources and reduce your carbon footprint is critical to the growth of your D2C brand. We hope this article inspired you to move forward, and we'd love to keep tabs on how you're turning your commitment into action.
Share your progress with us @theoreminc on Twitter.