Theorem's unified, company goal is to positively impact each other, our teams and families within our communities and beyond. Our people-first approach to culture helped to further unify us and achieve our goal of navigating the challenges of the pandemic. Through agility and attentiveness to the individual needs of our employees and their communities across the globe, we ensured our teams and their families had the resources they needed to stay as safe and healthy as possible. As a result of our learnings and growth throughout the pandemic, we launched our award-winning Theorem Cares initiative in 2021. Read on to learn more about our award-winning culture.
The Three Main Goals of Theorem Cares:
Offer employees stability across physical and emotional health and well-being

Offer stability across working infrastructure

Ensure teams maintain productivity without impacting client services
The Theorem Cares initiative is an ongoing strategy comprised of a variety of programs that support the company's overall goals. From improving vaccine accessibility in India to implementing a business continuity plan with employee wellness at the heart, and beyond – Theorem Cares has made a positive global impact not only on our employees but also on our clients and local communities. 
Goal 1: Offer global employees stability across physical and emotional health and well-being
With offices located in the US, UK, India and Australia, Theorem is committed to supporting each of our global employees to the best of our ability. While the U.S. was successfully rolling out the COVID-19 vaccine, the government-led rollout in India was severely ineffective – leaving our employees and their families with little protection as the Delta variant was ravaging the country. 
Theorem took drastic action to ensure accessibility to vaccines in India. By partnering with local hospitals, we ensured equal opportunity for our staff and their families to be vaccinated and protected against COVID-19. We fully funded both doses for our team members, their immediate and extended families as the luxury of free vaccination is not accessible in India. 
Additionally, the local communities in India were struggling with a lack of medical transportation for the ill due to the COVID-19 pandemic. To aid in the effort, the Theorem team donated ambulances to area medical facilities to aid the mobility of patients within the local communities surrounding our India offices. We also offered private transportation and security for employees and their families to accommodate transportation needs and safety during lockdown procedures across regions.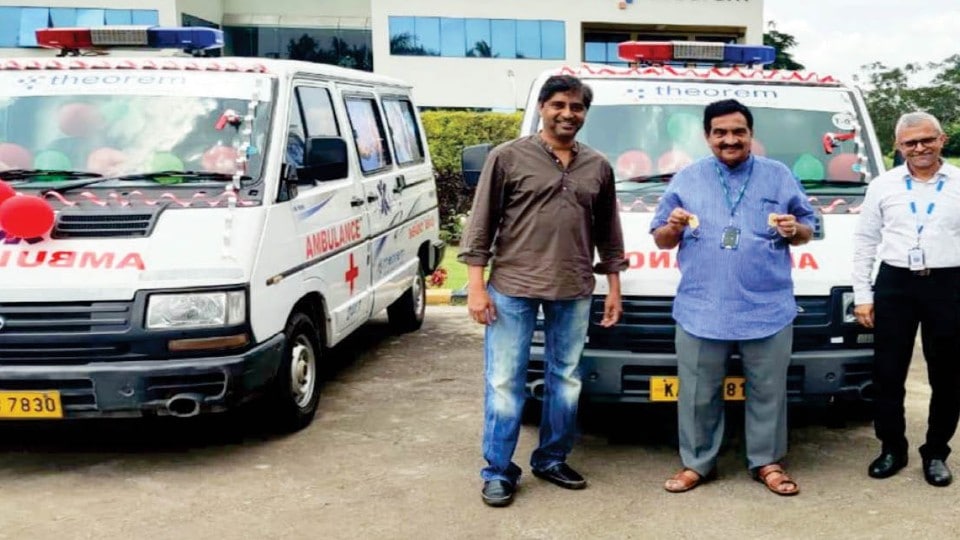 Goal 2: Offer stability across working infrastructure
Theorem's core values were tested when employees began experiencing different and localized pandemic-related threats worldwide. Theorem's top priority was keeping teams happy, healthy and protected despite individual circumstances. To combat this chaos, Theorem created and executed its Business Continuity Plan (BCP), shifting teams worldwide to a virtual, flexible working environment with minimal disruptions to client services. 
Supplying Theorem employees with the equipment and connectivity needed to achieve a stable working environment at home was essential. For the employees based in India, we supplied bandwidth hardware, supplemental hardware for VPN and private network access, laptops and private transportation with physical security and surveillance video capability to provide safety for employees during lockdown transportation.
Goal 3: Ensure teams maintained productivity without impacting client services
The Theorem team facilitated healthcare access and mental health support services to global teams to ensure maintenance of overall physical, mental and emotional health and wellness throughout the pandemic and beyond. Theorem also hosted office-wide donation drives for charities and encouraged employees to contribute to philanthropic causes with Volunteer Time Off – such as Black Girls Code, the Anti-Racism Fund and Feeding America – to help address larger societal issues and ensure the progress of tomorrow for people of diverse backgrounds.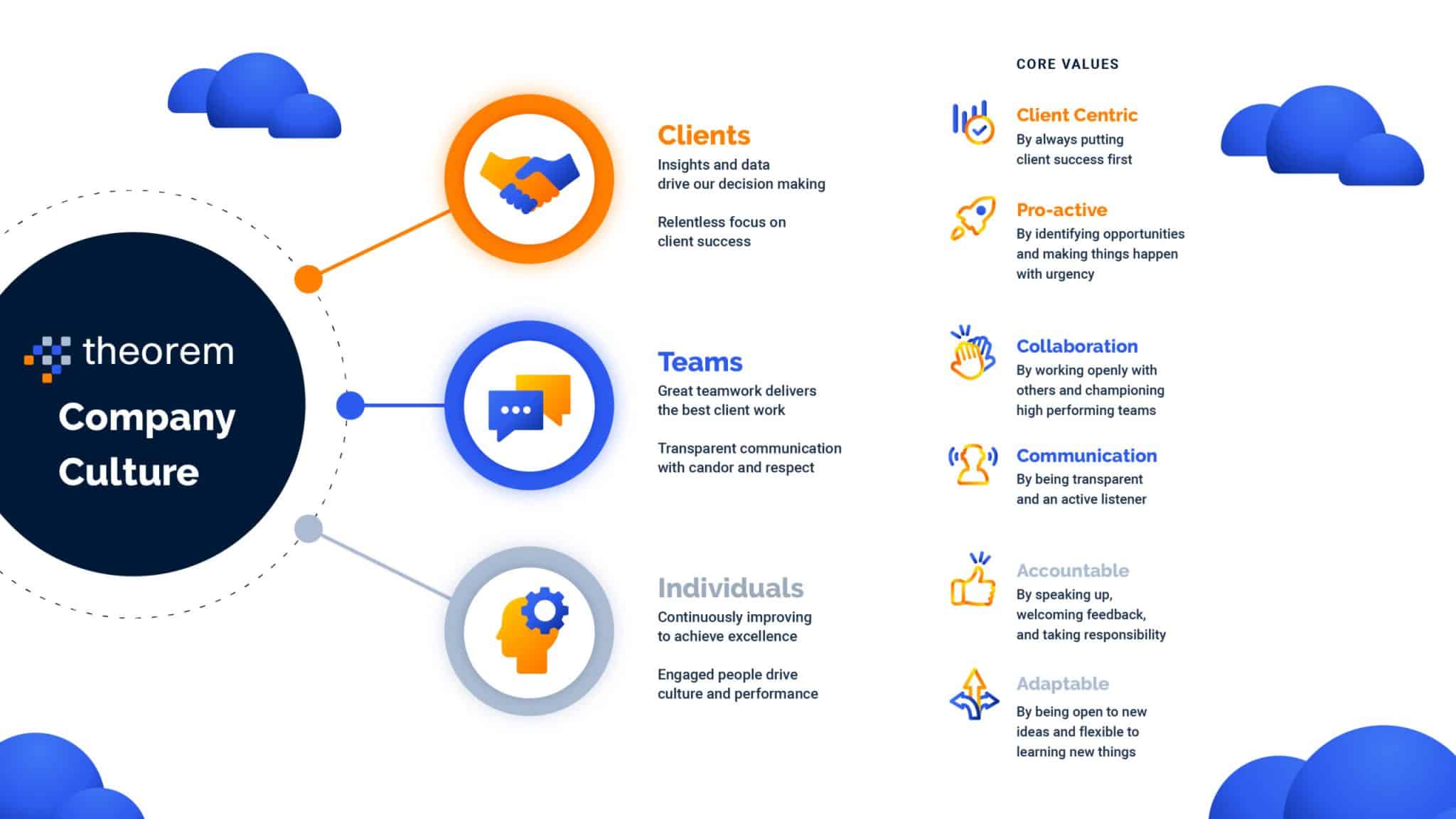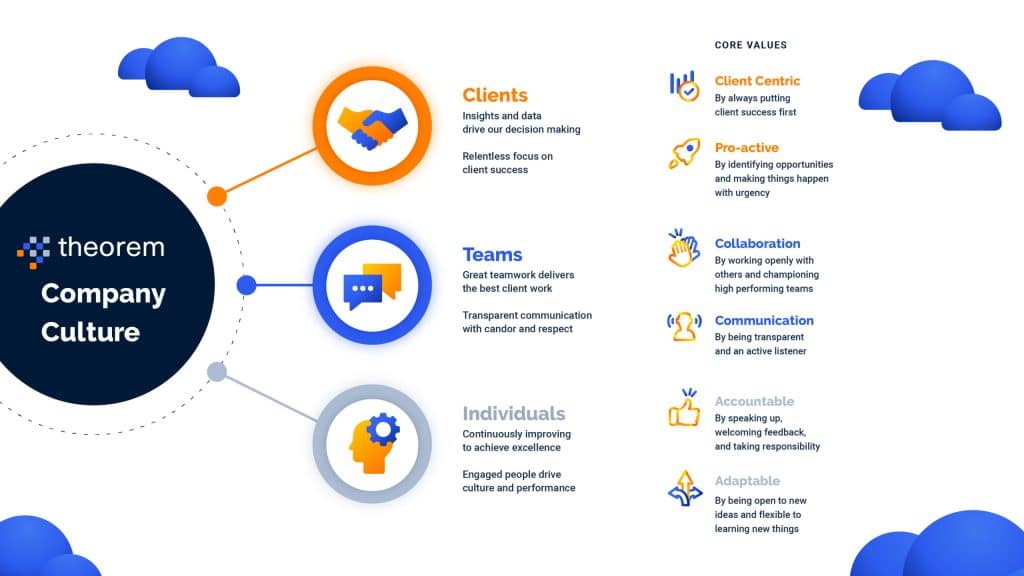 In addition, Theorem initiated an updated culture value methodology across the organization to enable the prioritization of both clients and employees. Our six values — collaboration, communication, pro-activity, client-centricity, adaptability, and accountability — have helped maintain a well-functioning, unified company despite the sudden global work from home mandates. These principles are the heart of our company culture helping to guide our employees as we all navigate this new normal. 
The Theorem Cares Program is Award-Winning!
With the mobile advertising landscape in continuous flux, one of the only certainties is the need for flexible marketing strategies. To survive and thrive in the current endemic era, brands must be able to adjust swiftly to changing consumer trends and respond at scale. This requires nimbleness when it comes to adopting new technologies, integrating new tools, and using data-driven insights to optimize campaigns in real time.
We are honored to share that our Theorem Cares program has been recognized by winning the following awards.
Theorem's Vaccine Drive was recognized in the Digital Marketing, COVID-19 Digital Response category as a

Gold Winner

at the

2021 AVA Digital Awards.

Theorem Cares was recognized as a

Platinum Winner

for the Team Achievement Award at the

2021 AVA Digital Awards.

Theorem's COVID-19 response was recognized as a Bronze winner in the 16th annual

Stevie Awards

for Sales & Customer Service for Most Valuable Response by a Business Development Team
Check out what The Stevie Award judges had to say about our Theorem Cares programs:
"This is a fantastic entry, giving judges a view of the business, the culture, and the strategy/execution of the COVID response."
"This is really a caring employer. I liked the following: Top priority was keeping teams happy, healthy and protected despite individual circumstances."
"Quite an impressive COVID response, and well summarized. Thank you for your submission. The vaccination initiative and transportation re-purposing for Indian employees is especially notable – literally saving lives. I appreciate how Theorem not only served employees, but the communities as well. All this while trying to keep your business operations intact during the pandemic – that would be a significant balancing act."
"In terms of a Covid-19 response, it's great that Theorem "repurposed a section of the company's transportation fleet into ambulances and donated them to local medical facilities to aid the mobility of patients in the community." Theorem's business continuity plan and what it provided its employees during Covid is very similar to what other companies have done."
"Theorem, really did a fantastic job with their response to the Covid-19 pandemic. I awarded a high score for the effort."
"Great company culture and actions. Always standing by employees side and taking humanity in first place. Congratulations!"
We at Theorem are honored to have received these awards and are continuously committed to strengthening the communities in which we do business and beyond.