Throughout human history, there have been technological advancements and revolutions that have re-defined life as we know it. If the first industrial revolution was steam, the second industrial revolution was mechanization, and the third industrial revolution was digitization, we are currently at the cusp of a fourth industrial revolution, which is the blurring of the physical, biological, and digital worlds. 
We can already see the impact of the fourth industrial revolution on society. How we consume content, enjoy entertainment, and shop online has evolved astonishingly over the past decade. As we look ahead to the possibilities of what this fourth revolution will bring, we can determine without a shadow of a doubt that automation will be the conduit and automating market processes will be the path.
Why Automating Processes Is a Must For All Marketers
The dramatic drop in cost and access to technologies that underpin access to content and shopping is allowing more and more customers to use different channels and devices to make buying decisions. The ability to acquire new audiences, and retain and communicate with existing customers, has enhanced the customer experience while allowing insights to evolve rapidly. 
It's no longer humanly possible to effectively manage marketing at scale. Especially across different devices and media channels, analyze data being generated in real time, and act on that data without leveraging automation.
Labor is one of the biggest line items in the balance sheet. Utilizing automation for marketing processes helps with stabilization. Resulting in fewer opportunities for human error, fewer unproductive work hours, less time lost to vacation or personal days, less burnout, and reduced training and HR costs. 
Automating marketing processes with automation technologies can help companies cut down labor costs. This is especially relevant in industries like marketing and advertising, where seasonality and access to talent is fierce. But the benefits of automating processes extends beyond improving financial health, especially in marketing, where the human elements is critical and important to audience engagement and retention.
Incorporating the Human Element Into Your Automation Journey
The common denominator of marketing, regardless of which channel you are leveraging to interact with customers, is a campaign. Running a campaign requires a lot of thought and many different moving parts with disparate skill sets: media planning, buying, creatives and customer experience, targeting, optimization, and campaign–end analysis.  This is where automating marketing processes becomes crucial for many organizations.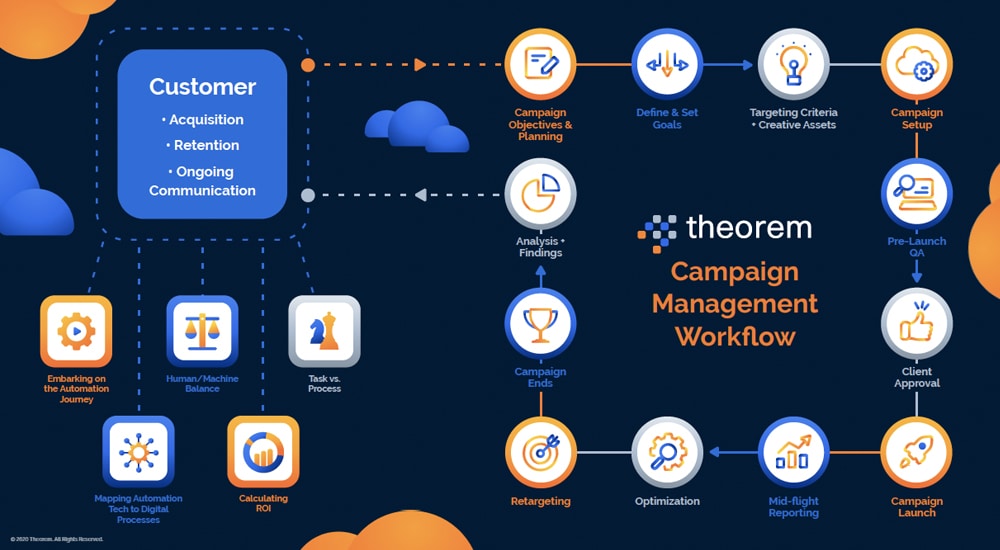 Some elements of a campaign workflow lend themselves well to automation and some need human creativity and ingenuity for success. As the cost of automation technologies like robotic process automation (RPA), artificial intelligence (AI), machine learning (ML), and intelligent business process management (iBPM) have become mainstream and accessible, many—including the team at Theorem—have learned how to adopt these technologies to improve efficiency, accelerate business growth, and grow revenue faster than ever before.
As we dive into the core topics that make up the automation process, we will be sharing the experience and insights of our own automation journey to assist you with your own automation success.

Your Guide to Automation Success
It's no longer about whether to automate certain marketing and creative processes. Rather, it's about what to automate (task versus process), when to automate (learning to mitigate internal and external risks), and how to automate (understanding if the organization has the skills and training to achieve stated ROI). If anything, the pandemic has accelerated the move towards this mega trend.
In this series, we'll share the methodology a company needs to follow for marketing automation success.
We'll discuss how a digital marketing organization embarks on an automation journey, how one finds the human/machine balance in the automation cycle, and the importance of understanding task versus process automation in a digital marketing campaign.
We will also cover the mapping of automation technologies to the digital work flow, as well as how to calculate ROI from the automation marketing process.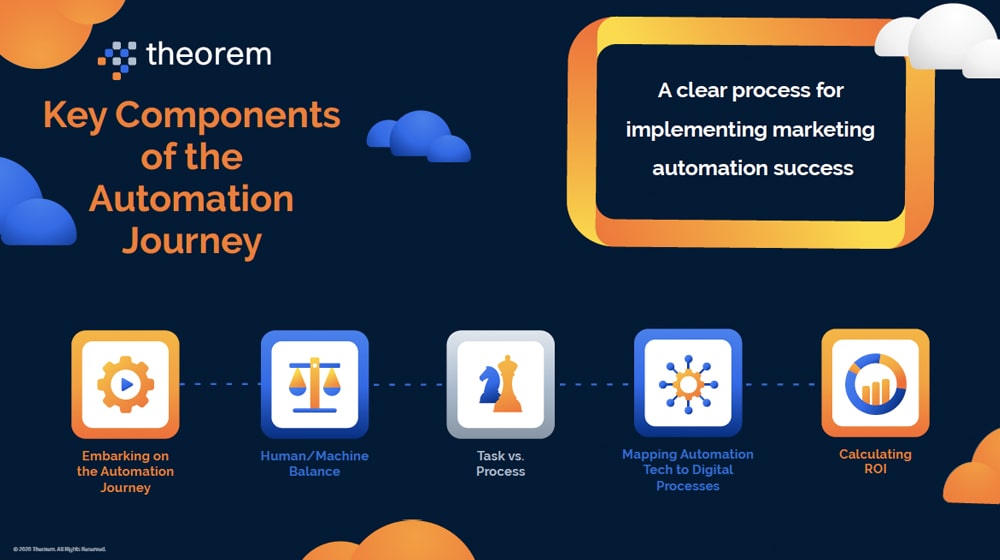 Automating marketing processes is no longer just a Fortune 500 strategic initiative. As channels grow and audiences become increasingly hard to reach, the ability to balance human and machine processes while getting scale via automation has become a competitive imperative.