The Supply Chain and Shipping Challenges Every D2C Business Should Know
Understanding how these challenges will affect your D2C business is essential to developing a holiday shipping strategy free of hiccups. Consider these critical factors as we enter what promises to be the most unpredictable holiday season yet.
First, keep tabs on how supply chain disruptions will affect your business. Ensure that your buyers and those tasked with sourcing products are in constant communication with vendors and relaying delays and out-of-stock notices with the rest of your team. Having the most up-to-date estimates on hand provides your team with the information you need to respond appropriately through alternate sourcing methods and product lines.
Next, consider the extended shipping timelines. The increased shift to mobile and online shopping influenced by COVID means that the coming months will see digital shopping spike in double digits like we've never seen before. Although shipping carriers continue to advertise their usual delivery windows, D2C fulfillment company Airhouse reported one to three shipping day delays on average beginning with Black Friday and Cyber Monday and continuing through Christmas during the 2020 holiday season.
And given the buzz around shipping in 2021, these delays are sure to happen again this year, potentially on a grander scale. This means it is critical to plan for the holiday shipping surcharges that FedEx, UPS, and USPS will apply to recoup the costs of retooling their operations to support the flurry of shipments that begin in October and continue through January.
Finally, the year-end rush will cause some shipments to get lost in the mix, either due to tracking delays or unexpected mishaps. Although these operational snags are out of your control, customers will expect your business to right the situation. Plan accordingly by developing communications and deciding upon resolutions. That way, when these issues arise, you and your team are fully prepared to respond in ways that reassure your customers and strengthen your relationships, even in the midst of an unpredictable holiday shopping season.
Save the Day with Effective Shipping Strategies
Economy shipping can save a buck because multiple carriers work together to handle a single package, which often results in slower ship times. This year leaves lots of room for delays, so offering shipping methods that are slightly more spendy but much more streamlined can help reduce extended timelines and keep your deliveries on time.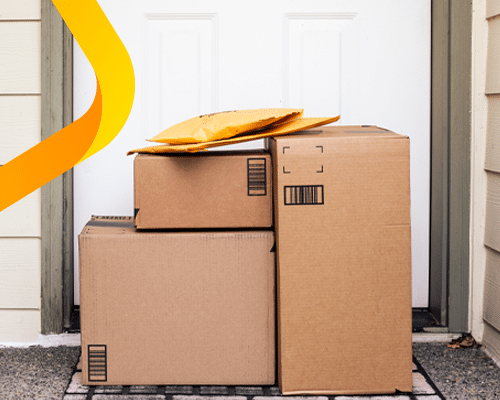 From shipping delays and lost packages to the occasional porch pirates, disappointments don't have to ruin your customer relationships. Meet with your team to develop an action plan that equips your customer success team with the right words to say and the kind of offers and upgrades that make your customers feel seen, heard, and valued no matter what gets in the way of their smooth holiday delivery. 
Be Real with Your Customers
Like Everlane's email, your communication to customers should have key components like those listed below, plus a commitment that addresses the holiday season's situation at hand. Here's what to include:
The Issues You're Experiencing
Your customers don't understand supply chain logistics the way you do, so it's important to describe the impact of the supply chain disruptions in layperson terms and provide specific examples. Everlane illustrated the situation by sharing that there is a 13-week delay on their popular barrel pants. This helps the customer immediately understand what the problem is and its level of severity. With a single line of text, Everlane equips its customers with the information they need to make decisions that are best for them, which is ultimately best for Everlane's business. 
Your loyal customers deserve to know that your D2C business is doing everything it can to ensure that their purchases – both personal and holiday gifts – will arrive in time. In a sentence or two, let them know the great lengths your team is going to source inventory and secure shipping services. 
The most crucial component of your email, your commitment to customers, will be the lines that let them know they're always top of mind. Of course, "commitment" is a problematic word to use these days, but it's not out of bounds when you outline what you absolutely can do. 
Your commitment can promise:
Finally, end your email on a high note. Remember, the sooner your customers place their holiday orders, the smoother their experience will be. What better way to convince them to shop now than giving them an exclusive taste of Black Friday in your holiday update email? 
Address the solution to their supply chain concerns with a deal that's especially for them. Offering 50% off sitewide on Black Friday? Create a single-use promo code for your customers to add to your update email and let them know that Black Friday and Cyber Monday are coming early – just for them! Be sure to provide an expiration date for the promo code that prompts them to shop ASAP. 
Develop a Holiday Deals Strategy Tailored to 2021
Above All Else, Stay True to Your Brand